Best Bathroom Cleaning Gloves (Which One is The Right One) in 2023
If you're cleaning your bathroom (and you ought to do that regularly, you know), you really should expend some effort into wearing the best bathroom cleaning gloves you can buy. It doesn't matter if you have the best bathroom cleaning tools available. Your hands are just too vulnerable, and you don't want your hands near anything that's icky, for lack of a better word. 
It's true that you can just get disposable gloves for when you clean the bathroom. But the best bathroom cleaning gloves can be quite versatile when they're reusable, as you may use them for other cleaning tasks. You can use the same gloves when you wash the dishes, groom your pets, wash the car, and do some gardening. They can even come in handy for household painting tasks. 
Why else should you wear gloves when cleaning the bathroom? The main reason is to protect your hands. The best gloves for cleaning toilets and other parts of the bathroom can protect your hands from germs and from harsh cleaning solutions. You're even able to use hotter water for cleaning. The gloves also allow you to tackle stuff that you might be otherwise too squeamish to handle with your bare hands. 
The gloves can protect the skin of your hands, so they're not too dry afterwards. In addition, these gloves can also protect your nails (especially important right after a manicure). And if you already have some sort of abrasion or cut on your hands, the gloves can keep them from getting infected. 
Best Cleaning Gloves for the Bathroom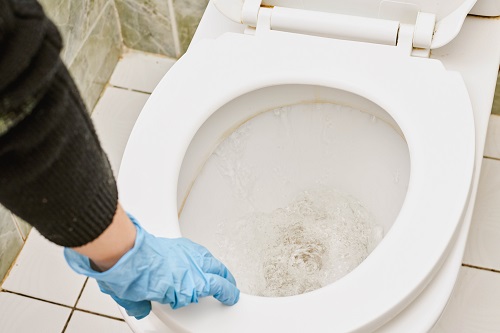 Of course, it all depends on the bathroom gloves you buy. To make sure you get a great pair of cleaning gloves, you should make your pick from among our list of the best bathroom cleaning gloves. 
1. Rubber Cleaning Gloves -Best gloves for washing dishes and bathroom
Yes, it also comes with a pair of cleaning cloths. But you also get the more important 2 pairs of cleaning gloves. These are in different sizes, so you're more likely to find one that best fits your hands. This is made from ultrafine synthetic rubber, with 80% polyester and 20% nylon. It's also thick enough that you can use really hot water and not get burned. 
There are actually 3 sizes to pick from, so you can get the best fit. The small size measures 3.5 inches across the width of the palm (not counting the thumb), with an overall length of 15 inches. The medium is 3.9 inches and 15.4 inches long, while the large is 4.1 inches across and 15.7 inches long. 
The gloves offer a sure way of keeping the dirt and water from your hands. You're sure to have a good grip on your cleaning tools, with the design for the granules on the palm and fingers to improve friction. 
The gloves here use non-toxic rubber, which makes it great for kitchen use as well. You can use this while handling meat, fruit, and veggies, and you won't make the food unsafe to eat.  The rubber used here is elastic and liable, so it's easy enough to move your fingers. It's very comfortable to use. 
The price is also fantastic, and take note that it comes with the cleaning cloths as well. The gloves are easy enough to clean afterwards. Just store it in a ventilated place, and it dries very quickly. It won't deform afterwards as well. 
2. Pettinccn Magic Gloves with Scrubber
Yes, this is great for use in the kitchen, but it works in the bathroom as well. You can also use it for any household cleaning chore, and it even works when you use it for handling clothes. The key is to get the right fit for your hands. 
When you do get the right size, then this pair of gloves can work wonders. You should have enough space on the inside of the gloves, so your hands have some bit of breathing room. That way, your hands don't come out sweaty inside. 
Then on the outside, you have the prominent silicone bristles that you can use to directly clean dirty dishes and other stuff in your bathroom. The thick silicone bristles can really get rid of various oil stains, while it also improves your grip on dishes or whatever tool you're holding to clean the bathroom. 
Cleaning and disinfecting the gloves isn't difficult. That's because it can withstand temperatures of up to 320 degrees F (160 degrees C). You can use boiling water to sterilize this, so you can make sure there aren't any nasty germs settling on it after you clean the bathroom. Or you can even clean it in your microwave oven (2 minutes will do). 
You can then suspend the gloves on a hook, so you can drain the water from it and avoid bacterial growth on the gloves. It dries quickly enough, and you can then use it later in the day. 
3. Tusko Products Dishwashing Gloves
These are not made from latex, as they're made from nitrile rubber. They're hypoallergenic, so it's the best choice if you're allergic to latex. The nitrile rubber is also resistant to many different types of chemicals, including oils, solvents, kerosene, and even gasoline. That means you can also use these gloves for dishwashing in the kitchen and for cleaning your car. The nitrile lasts longer than latex. 
These gloves are available in many different sizes, ranging from X-Small to X-Large. With lots of size options in between, you have more chances of picking a size that really fits you well. The X-large we got are also 13 inches long, so your forearms are protected from splashes and other chemicals. 
It's easy enough to don the gloves, as they're lined with a cotton flock lining (also hypoallergenic) that helps to slide the gloves onto your hands. Some gloves may develop a rather unpleasant odor once the inner lining is exposed to moisture. But that's not a problem here, as the cotton flock lining is also odor-resistant. Just let the inside dry out if it gets wet. 
The rubber here is quite thick, for adequate protection and durability. It's thick enough that it resists abrasions and cuts (which helps when you're cleaning your kitchen knives). But at the same time, you still have the flexibility you need to use your hands properly. 
At least you won't have to worry about losing your grip on your cleaning tools (along with your dishes in the kitchen). The glove contact points are textured to optimize the grip, even in wet conditions. 
Since these are reusable, you can just use them every day for various household cleaning tasks. That should save you quite a bit of money, compared to buying disposable cleaning gloves on a regular basis. 
4. Mr. Clean Small Reusable Latex Gloves
It's always reassuring when you get any product with a more popular brand name. That's because the people working for the brand are more determined to protect the brand's reputation. A single bad product can ruin a brand's reputation quickly enough. 
There's not much to ruin here, as it works as well as you can expect. It's made from natural rubber latex, which is a common enough material option for cleaning gloves. The pack comes with 2 pairs of gloves with different colors. That means you can assign one pair for exclusive use in the bathroom, while you can use the other pair for the kitchen. 
The latex allows for free hand and finger movement, so you shouldn't have any trouble while you hold various things while cleaning the bathroom. At the same time, the latex is tear-resistant, so it should hold up fairly well. 
This also features cotton-flocked lining to help with your comfort, while the glove also offers a nice and secure grip on your cleaning tools. These gloves are reusable, so clean them after using and you can use them again. 
5. Forliver Cleaning Sponge Gloves
This is another multi-purpose set of gloves. While its features make it ideal for dishwashing, it also works well enough when you're cleaning your bathroom. 
This is made with non-latex rubber, so it's a good choice for those with latex sensitivity. It features food-grade silicone, which means you can have the material get into contact with food and it won't contaminate the food. It's all good. 
You'll also notice the prominent bristles on the palms and fingers. These work as your scrubbers, so you don't need to use a separate sponge at all. That's already built-in. That allows you a sense of touch that lets you feel for dirt that may not be easily seen, so you can scrub on the dirt more diligently. 
This works well enough with very hot water, as it can deal with temperatures of up to 160 degrees C (320 degrees F). You can then use hot water for cleaning your toilet and sink, along with your dirty dishes. 
Some users have commented that the bristles don't really offer a secure grip on dishes. But if you're using these gloves just to clean the bathroom, then that's not really a problem at all. You can easily use hot water to disinfect the gloves as well. 
6. Mr. Clean 243033 Bliss Premium Latex
Yes, it's another Mr. Clean pair of gloves. It's also latex-free, so it's another alternative for those who don't like to use latex. In fact, Mr. Clean uses their own proprietary rubber material (which they call "Bliss") for these gloves. It's very durable and tear-resistant as well. 
On the inside, you'll understand better why the gloves are called bliss. That's because of soft and ultra-plus lining on the inside. It's very comfortable to wear. This lining is what sets this pair of gloves apart from the rest. It's just super-nice to the touch. It doesn't even cause your hands to sweat, so you have dry hands afterwards. 
At the same time, it has a non-slip design so you won't accidentally drop stuff into the toilet, or drop dishes in the kitchen sink. If this has any drawbacks, it's that it's not as long as many would like it to be. Its length stops a bit too close to the wrist, since the whole glove is 12 inches long from fingertip to the end of the cuff. 
Factors to Consider
To pick the right bathroom cleaning gloves for you, consider the following factors:
Dexterity
How well are you able to flex your fingers? Since you need to hold various cleaning tools, you'll want gloves that let you grasp the tools tightly. 
Comfort Level
It can be a pain if you use uncomfortable gloves. The best gloves have soft lining on the inside to keep your hands from sweating, leaving them dry. 
Protection Level
It's great if the gloves can protect your hands not just from the icky stuff, but from harsh cleaning chemicals and even hot water. That way, you can also use hot water to disinfect the gloves, so you can use them again. 
Reusability
The problem with disposable gloves is that it can be an expensive proposition, buying new gloves every time. But tough gloves that can last a while are great, as you can reuse them many times. The gloves should be easy to clean and then should dry quickly afterwards. 
Versatility
Since you're reusing the gloves, you might as well use them for other household cleaning tasks. Dishwashing is certainly a popular alternative use, which is why many of these gloves feature a special textured surface for improved grip while holding wet dishes. 
Conclusion
It's not all that difficult to clean your bathroom. You just need to expend some time and effort into it. With the best bathroom cleaning gloves, at least you protect your hands along the way, and you won't have to deal directly with anything to icky.