Brillo Vs SOS [What Is Better To Choose?]
Would you ever think about your home stuff cleaning scrubber's usage quality? Or
Do they scratch your valuable things instead of cleaning? 
Is it ok to use the same pads for aluminum and kitchen utensils?  
You always use a pad to meet your cleaning purpose but never try to know all those questions' answers. But without having the answers, you may use the wrong pads for the wrong purpose that is not worthy. 
When you want to buy a cleaning scrubber, You'll find a strong debate between Brillo vs SOS which are the giant brands in the cleaning pads industry
In Short, from Lab Testing, it is confirmed that SOS pads are more long-lasting, faster, and contain more soap. However, Brillo soap pads are more abrasive to clean heavy stains from the surface, even at the edges of the stuff.    
Our article will tell you about the differences between the pads and the winner position. We hope it will help you to make your decision.
Basic Differences Between Brillo Vs SOS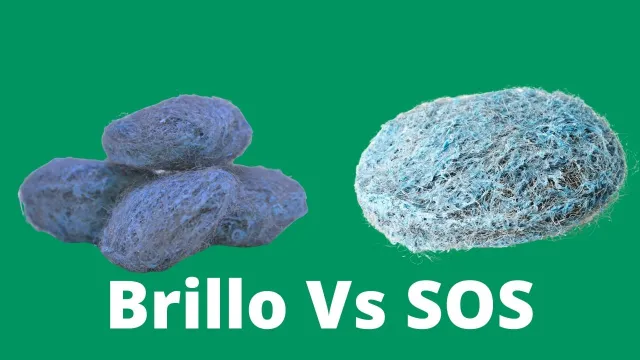 The main differences between the Brillo and SOS pads are in the manufacturing ingredients, abrasiveness and usability. Experts suggest SOS pads for all types of home stuff cleaning and Brillo mainly for cleaning the Aluminum and steel made stuff. As Brillo Soap Pads are more abrasive. In contrast, SOS pads are less abrasive. 
Check the chart to know in-depth differences between Brillo and SOS steel wool soap pads.
Compared Features
Brillo Soap Pads
SOS Soap Pads
Manufacturer
Armaly Co.
Clorox Co.
Chemicals
Anionic surfactants
Laurylamine 
Dipropylenediamine Benzisothiazolinone
Methylisothiazolinone
Isothiazol
sodium tallowate soap, etc.
Sodium tallowate
Glycerin
Sodium Carbonate
Cocamide MEA
Sodium Nitrite
Oleic-stearic acid
Sodiumdodecylbenzenesulfonate 
C.I. pigment blue 15
Dilauryl thiodipropionate
Fragrance
Sodium hydroxide
Sodium metasilicate
titanium dioxide, etc.
Roughness
More Abrasive
Less Abrasive
Usage
Rough surface (Like Aluminium and steel made accessories)
For all kinds surface.
Durability
Less
More
Soap
25%-30%
35%-40%
Shape
Square
Round
Size Dimension
2.35 x 2.35 x 0.63 inches
11 x 2 x 6 inches
Weight 
8.78 Ounces
9.14 Ounces
Shop 
Check Price On Amazon
Check Price On Amazon
This chart will help you understand the basic differences in features between the Brillo and SOS soap pads. We know it is hard to find the best one. So let's see the in-depth details of both the steel wool soap pads.
In-depth analysis of Brillo and SOS
1. Brand History
Brillo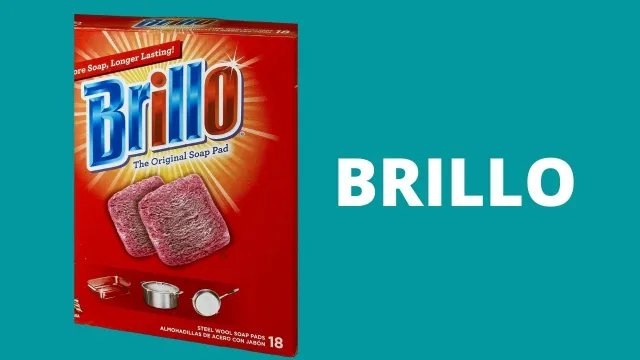 For the scouring pad, Brillo is the trade name. This pad was introduced for cleaning dishes and made from steel wool contained with soap for the first time. And then this concept was patented in 1913 when Aluminium pots and pans were replacing cast iron. 
So the Brillo steel wool soap pad started its journey to clean the Aluminium pots and pans. In addition, previously, Brillo pads were manufactured by Brillo Manufacturing Company and now Armaly Brands is the owner of it. 
SOS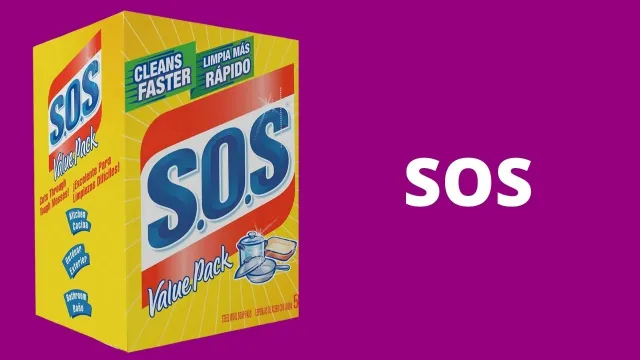 For the abrasive cleaning pad, SOS is the trade name. This pad was invented in 1917 by a home utensil seller as a pre-soaped pad. The SOS pad started its journey aiming at all the customers' needs. 
The proposition was to clean all home utensils with a scouring pad. As per his wife, SOS stands for "Save Our Saucepans". The present manufacturer of this SOS steel wool soap pad is the Clorox Company.
Winner: SOS 
2. Cleaning
Brillo
Are you looking for a steel wool scrubbing pad to clean edge to edge of the surface? If yes, Brillo's square shape will help you clean the corner of your Aluminium and other steel stuff. This scrubber does an excellent job on the rough surface.
SOS
It is less abrasive as it is not only for cleaning the metal stuff but also for other home accessories. Sometimes, you'll find it becomes hard to reach the corners because of its round shape. However, it makes your stuff's surface shinier. 
Winner: Brillo
3. Fastness
Brillo
Brillo pads perform slightly slower than SOS when you consider fast cleaning. The pad will consume more petite soap to clean the dusty surface. However, Brillo is better on the metal surface to clean rust and heavy stains.
SOS
This pad contains more soap, and its steel wool is thinner that works great for fast cleaning. On-top notch, its other acidic chemicals help to sparkle the utensils.
Winner: SOS
4. Usage
Brillo
You can easily clean tough messes all over grills, pots, pans and other Aluminum made home stuff with Brillo. But try not to scrub with so much force, which may also cause scratches on the stainless steel.
However, you should avoid using this pad to clean plastic, ceramic, porcelain-coated home stuff like bathtubs, toilet seats, and basins. Its rough and abrasive steel wool may scratch on those utensils.
SOS
The SOS pads are made with less abrasive wool that allow for cleaning more kinds of stuff. Its usability is wider and good to clean  both kitchen and bathroom utensils. From lab testing, it is found that SOS pads contain 23% soap that makes it non-rough for all surfaces.
However, SOS steel wool soap pad also works well to clean stoves, glass bakeware, pots, pans, golf clubs, grills, car tires, chrome bumpers, glass shower doors, porcelain tubes, and Sinks- well.
[Note: Both Brillo and SOS are not usable for Non-Stick surfaces]
Winner: SOS
5. Toxicity
Brillo
Brillo pad contains less acidic chemicals so it is less toxic. However, using it directly may cause allergic irritation if you have skin issues. But you can easily avoid this irritation by wearing gloves before using the pad.
SOS
In this matter, SOS pads are quite toxic enough. In a report, an SOS soap scrubber contains sodium nitrite, which is suspected of causing blood toxicity and cardiovascular disease. Moreover, its titanium dioxide is supposed to cause cancer. However, there is nothing to worry about. Once you clean the accessories, wash them with soft water and rinse them properly.
[Note: Keep both Brillo and SOS pad out of children's reach and must use gloves before using.]
Winner: Brillo
6. Roughness
Brillo
When you want to clean some heavy stains, you will need some rougher scrub. And here, Brillo is one of the roughest scrubbing pads that has around 8%-9% thick steel wool. For such roughness, its heavy scrubbing may cause scratches or even it may remove the color of your utensils. So you should use this pad by gentle force.
SOS
SOS pads are also abrasive but it contains  5%-6% steel wool, so it keeps your stuff more scratch-free. But it slowly removes stains on the aluminum surface.
Winner: Brillo
7. Lasting
Brillo
A Brillo pad contains around 30% soap and until the soap is left, you can use it for as long as you want. However, from testing and customer reviews, it is found that you can use this pad for 2-3 rounds on kitchen stoves, aluminum pots, and sticky pans.
SOS
The SOS pad contains around 40% soap, which is good. From different forums and customer reviews, it is found that you can easily use one pad for 4-5 rounds on a normal aluminum surface.
[Note: How long a pad will last, it depends on the surface of the stuff]
Winner: SOS
8. Price
Brillo
One package of Brillo contains 18 pieces of steel wool-containing soap pads and requires more investment than SOS. But it's a good deal for you if you aim to have a scrubber that will remove the stain from your Aluminum kitchen stuff.
SOS
On the contrary, One package of SOS contains 20 pieces of wool soap pads and requires less investment than Brillo. Considering the number of pads and price, it's a far better deal for you if you look for a pad that will make all your home stuff (both kitchen and bathroom) shiny.
Winner: SOS
FAQs
How to use Steel wool soap pads?
It is very simple to use the steel wool soap pads. First, put on your gloves and unpack the pad. Then wet it in water to create the pads soapy and start scrubbing your utensils. Don't scrub once you find there is no foam of soap. Otherwise, it may scratch your utensils.
Can I reuse the Brillo soap pads?
Yes, you can. But only the soap inside the pad was left. Otherwise, it is non-usable.
Why does the Brillo soap pad cause scratches on my sink?
Brillo is mainly for cleaning Aluminium pots and pans. But when you put extra force to remove heavy stains from the sink it causes scratches. In this case, SOS performs better.
Does the SOS pad cause scratches on Stainless Steel?
Probably Not. Because it contains more soap, which makes the surface more slippery when scrubbing. It won't leave a scratch on the surface. But heavy pressure for cleaning may cause scratches.
Can I use Brillo and SOS soap pads to clean my Non-Stick pans?
Not at all. Such steel wool pads will remove the non-stickiness of your pan. You may use the regular poly scrubber to clean your non-stick pans.
What To Choose Between Brillo vs SOS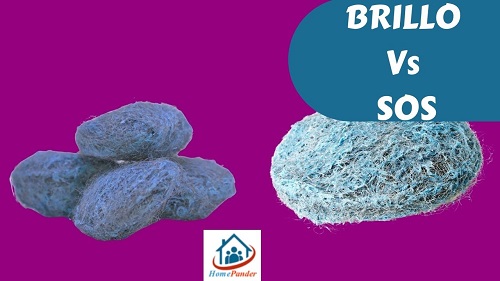 Brillo and SOS both pads have their own perspectives of use and some separate orientations. You now have an in-depth comparison between Brillo vs SOS.
Where Brillo is rough, mainly to clean Aluminium stuff, their SOS is for cleaning overall kitchen and bathroom accessories. 
So if you want to clean your Aluminium kitchen stuff like pots, pans, and sinks, Brillo is a good choice for you.
And if you want one soap pad that will make both the kitchen and bathroom accessories shiny, then SOS pads are preferable.