How to Clean Quarry Tile Floor Grout? 10 Simple Steps To Follow
It's pretty lovely to decorate your home with aesthetic quarry tiles. But maintenance is also a crucial part when it comes to this aesthetic touch of art. On that note, the cleaning of quarry tiles is a big concern.
So, how to clean quarry tile floor grout?
Vacuuming, sealing, mopping, etc., are needed step by step to clean quarry tiles. Also, cleaning solutions may need to be changed depending on the situation. Polishing can be a big concern as well. To sum it up, it requires extensive cleaning.
If you feel this is still not enough, don't worry. There's a whole article waiting for you to answer all your queries. Spare some time to get into details.
10 Steps On How to Clean Quarry Tile Floor Grout
Cleaning quarry tiles is not the same as getting rid of dried thinset from the tile surface. They can be very fragile, which requires some different methods to clean. 
However, we have got here everything you need to know regarding this. So, let's jump into that to understand how to clean quarry tile floor grout.
1. Vacuuming The Floor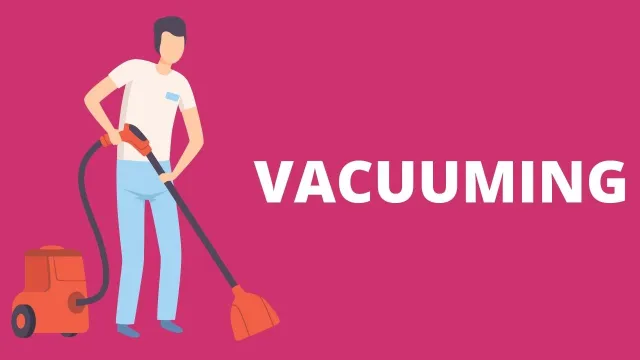 Some people may prefer to sweep the floor. But this is not ideal for quarry tiles.
quarry tiles have a lot of grout joints. Sweeping the floor may make those grout joints dirty. In that case, the whole idea of cleaning the bottom goes in vain.
So, it is better to vacuum the floor rather than just sweep. Vacuuming helps absorb all the dust and dirt.
All in all, it is an excellent way to clean any tile surface. It also mitigates the chance of grout joints being greasy and dirty. And it does not demand that much physical labor.
If you are looking for suitable vacuum cleaners, try the ones stated below:
We hope one of these vacuum cleaners might just be perfect for you.
2. Inspection of Sealant
quarry tiles are made of clay, and they are usually handmade. For this reason, there is a high chance that they might break easily.
This is why most quarry tiles have a protective layer of sealant over the clay. So, before cleaning the tiles, you should notice if the sealant is okay or not. Otherwise, time-consuming the raw clay might get exposed to harmful chemicals or other materials.
There may be sealant cracks or rustic characteristics present in the tiles.
If you find any problem with the sealant, first remove the old layer of sealant, and then apply a new layer on the floor. While applying new sealant, use the ones which are chemically compatible with your base.
For safety reasons, first, you can apply the sealer to an unseen area of your home to test it. If you find the sealer to be compatible with the floor, then you can use it finally.
After applying the new sealant, give it some time to dry.
We do not prefer waxing your quarry tile floors. Because over time, it may increase your maintenance cost.
And to be specific, a good quality sealer may serve you for more than 10 years. So, why bother waxing your floor?
3. Mopping The Floor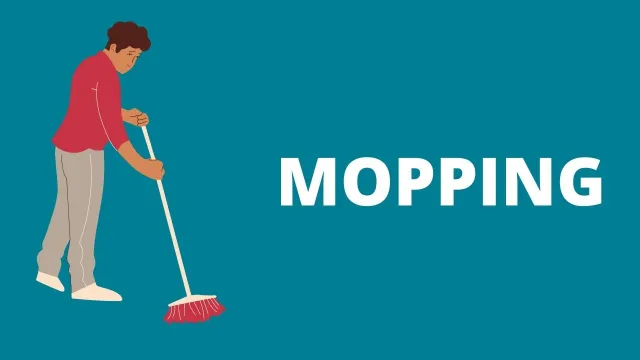 This is one of the primary things you can do to clean your tiled floor. If vacuuming does not help, then you can try mopping after the floor is sealed correctly.
Clear the area before you start to mop. Use warm water for mopping. Soak the mop in the water and then clean the floor. We suggest running your mop over the clean surface 3-4 times for best results.
Now, for cleaning quarry tiles, it is recommended to use string mops. Because they help to clean the grout joints properly, also, they are long-lasting. So, it makes the whole cleaning process more manageable and feasible.
If you do not know which string mop you should use, we are here to help you. We have listed down some string mops for you. Check them out.
One of these string mops can surely help you to clean properly.
4. Grout Cleaning
Even after mopping the floor, your grout joints might stay dirty. This can make things worse.
But here is a solution for that. Use a brass tipped brush for cleaning the grouts. This more often looks like a giant-sized toothbrush.
This can work wonderfully in terms of cleaning the grouts. Also, it isn't as time-consuming as grouting glass tiles. Just make the grout wet and then brush away all the dirt and other undesired things. 
Now, remember that you should not use a steel-tipped brush for this purpose. This will leave stains on the floor.
5. Using Proper Cleaner
Alkaline solutions are most suitable for cleaning topical sealer applied tiles. It would be best to mix the alkaline solution with warm water, which will be used for cleaning. After that, pour the cleaning solution directly on the quarry tiled floor.
Allow the cleaner to dwell on the floor for some moments and then scrub the floor. You can use soft scrub brushes for this purpose.
If the grout joints still look stained and dirty, then use an acidic cleaner. Use the acidic cleaner to remove the hard stains on the grout joints.
Remember that you should dilute the alkaline or acidic solution before using them. Otherwise, their harsh chemical properties can damage your floor. So, using pH-balanced cleaners is necessary.
For regular cleaning, a water/vinegar mixture is okay to use. You can also use a water/bleaching powder mixture a few times a year. This will help in deep cleansing and disinfection of the floor.
On that note, refrain from using oil or wax. This outdated process causes more damage to your floors rather than cleaning them.
Thus clean all the dirt and dust on your floor. Also, clean the dark grouts that have turned white by following proper measures.
6. Stain Removal
For removing stains from the tiles, first, thoroughly clean the floor. For hard stains removal, you can use a paste prepared from baking soda and water. 
Apply it on the stains, allow some time to make it dry. After that, remove it using vinegar. 
If you want to remove blood stains, then treat them when it's fresh. Because cleaning dried blood stains can be difficult.
Remember to wear gloves before doing this. Otherwise, the cleaning solutions might affect your skin. Also, keep good ventilation.
7. Changing Sealant
Sealants are used for the longevity of the quarry tiles. But they can get permanently damaged as well.
With time, the sealant gets too old and damaged to repair. In that case, you might need to remove the sealant and apply a new one. 
To find out whether you need a new sealant, pour some water on the floor. If the floor absorbs the water, then it is time to change the sealer.
For removal of sealant, first, determine the type of sealant used in your tiles. There are water-based or polyurethane-based sealants used on the quarry tiles. 
Water-based floor strippers are used for removing water-based sealants. On the other hand, paint strippers are used for the removal of polyurethane sealers. Purchase one of them according to your needs.
After the removal of the old sealant, apply a new one.
8. Refinishing The Sealer
After applying a new sealer, some refinishing work needs to be done. This will make your floors look magically beautiful.
Take a little amount of sealing solution in a pan and get to work. Apply sealing solutions using a sponge at the corners of the tiles. Try to keep the sealing layer as thin as possible to get a better finish.
Take your time and smooth the surface. In this way, complete the refinishing work.
9. Polishing and Shining
You can use gloss polish to make your quarry tiles look glossy. It will also add an extra layer of protection to the sealant. time-consuming.
Use a buffing pad to spray the shining solution on the floor.
You can polish your floors once a month. Also, keep in mind that the high gloss does wear off after a certain period.
Linseed oil can be used for polishing quarry floor tiles. Boil the linseed oil, and after that, work it on the floor. Rinse off the excess oil from the floor if there is any. Finally, allow it some time to dry.
10. Hiring Professionals
quarry tiles are pretty sensitive, and maintenance of them is also sophisticated. And failing to maintain them can result in unwanted floor surfaces.
So, it is always a good idea to hire a professional cleaning service to clean quarry floor tiles. These professional services have all the tools required to clean the floor properly. Also, they have vast experience in this arena.
However, hiring such professional services will cost you some bucks. So, if you are flexible with it, then you can always employ such services.
But even if you can not afford any such services, you can do it by yourself by following the aforementioned procedures.
So, this was all about how to clean quarry tiles.
FAQs
How to clean epoxy grout off quarry tile?
A solution of warm water(1L) and Vinegar(100ml) might be able to get that grout off of your quarry tile. It might take quite a few applications. Eventually, they'll come right off.
How do you deep clean a quarry tile?
Well, some strong cleaning solution might get your quarry tiles deep cleaned. As you'll be using a strong solution, make sure to gently scrub the tile surface. Calling in an expert might be the wisest decision in this case.
What's the best way to clean quarry tile?
Multi-purpose cleaners are the best route to take for quarry tiles. But the routine of your cleaning schedule can bring a major change here. Make a routine to at least perform a light cleaning every week. That would be the best way.
Can you use a steam mop on quarry tiles?
Steam cleaning is not at all suitable for quarry tiled floors. It is the enemy of the tiles as well as the sealer. So, please do not do it.
Is wet quarry tile slippery?
Properly sealed quarry tiles are not slippery. Also, unsealed quarry tiles absorb any wet substance. So, they are not slippery.
What's the cost of refinishing quarry tiles?
On average, it costs around 6-7$ for refinishing quarry tiles. However, it may differ according to your needs.
Is quarry tile a natural stone?
Yes, quarry tiles are all-natural.
Can a tile installer install a quarry floor tile?
Yes, following the proper steps, a tile installer can do the work of installing quarry floor tiles.
Conclusion
Apart from all the maintenance, quarry tiles are really attractive. They add an extra dimension to the beauty of your home.
But every beautiful thing needs sincere efforts to preserve its beauty. In the same way, quarry tiles also need to be cleaned and well maintained. 
We have tried to cover all the things you need to know on how to clean quarry tiles grout.
We hope this article will help you immensely. So from now on, say no to dirty quarry floors. Have a good time cleaning your floors.