You've just made a wooden coaster. And now you've to use finishes for it. But you don't know what finishes to use! That's concerning!
So, as per your concern, what finish to use for wooden coasters?
Well, you can use 3 types of basic finishes for your wooden coasters. First of all, tung oil is a good choice to consider. Secondly, polyurethane is also a great choice for your wooden coasters. Finally, you can use lacquer to give finishing to your wooden coasters.
Now, this information isn't enough for you. So, make sure to hang around to get the information in depth if you have time!
Sounds like what you wanted? Let's get into it!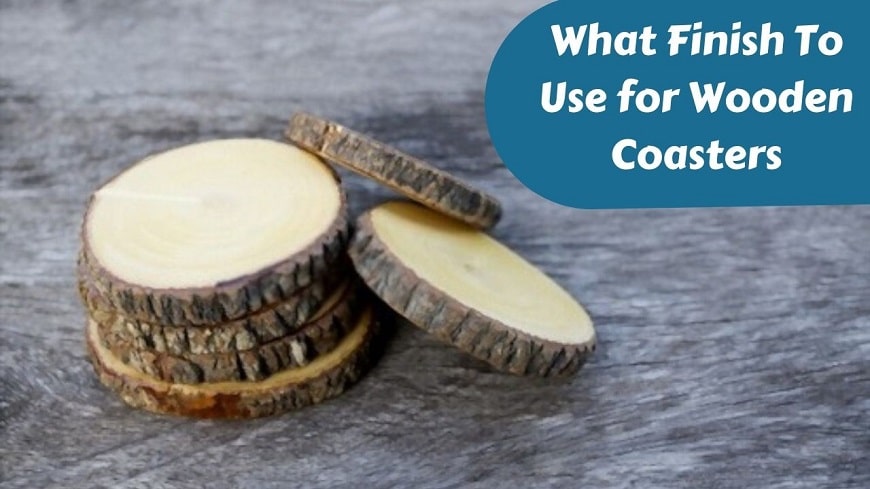 What Finish To Use On Your Wooden Coasters?
So, you've already got some ideas on what to use. However, we need to know in detail in order to use those.
We've mentioned the best finish for wooden coasters. These are tung oil, polyurethane, and lacquer. 
Now, to know them better, we've provided the pros and cons of the three-
Type 1: Tung Oil
The most common type of finish is tung oil. For a long time, this has been the standard way. So, let's see the good and bad sides of this oil-
Pros of Tung Oil
Many people appreciate this oil. Because it has a gleaming and light appearance from within. Simply put, this oil is both thin and highly penetrative. 
Tung oils are currently accessible in a variety of modified forms, for your information. As a bonus, it may give warmth to your coaster! 
Additionally, it's commonly available and straightforward to obtain. Moreover, it's a long-lasting finish as well. 
Cons of Tung Oil
This oil has a variety of drawbacks. You might be more concerned with the safety of your coasters than with their aesthetic, for example. In such a case, this isn't the best option!
Because coasters are subjected to a variety of extreme conditions. These include heat and water. Now, everyone wants a finish that can protect the wooden coaster from such elements. 
Yes, it's true that tung oil provides a substantial amount of shine. However, it is not resistant to water or heat. 
Type 2: Polyurethane
There is a question that is commonly posed. And that common concern is what finish to use on wood coasters? 
Well, you can use polyurethane. The positive and negative sides of the finish will help you decide if you want to use it-
Pros of Polyurethane
Polyurethane is currently one of the most popular materials on the market. It comes in two varieties. They are- oil-based and water-based. 
Oil-based ones are the most long-lasting. Additionally, they are both water and heat-resistant. Therefore, you don't have to worry about your coasters deteriorating in the near future. 
Now, the texture of water-based polyurethane is really light. As a result, they enhance the color by allowing it to remain on the wood. Also, they're quite quick to dry!
Furthermore, polyurethanes of all types are extremely quick to apply in general. They're also cost-effective.
Cons of Polyurethane
Despite the pros, there are some cons as well. Beginning with the drawbacks, they are unable to significantly improve the color of the wood. They take a long time to dry after they've been applied.
For example, oil-based ones do not have the best prospects. They do, in fact, add some color. 
Now, you have seen the opposite for water-based ones. However, you can't rely on them to keep your coaster safe from heat and dampness.
Type 3: Lacquer
This finish is indubitably a good one to use. However, the pros and cons are discussed below for your evaluation on it-
Pros of Lacquer
A glossy coaster is certainly eye catchy to everyone! Surprisingly, lacquer finishes are distinguished by their glossy appearance. Moreover, they're moisture and heat-resistant as well. 
Cons of Lacquer
Although lacquers appear to be long-lasting, there is a drawback. 
And it's because they're pretty frail. Extensive use might cause scratches in a short period of time. If you buy a lacquer finish, you'll have to be a little more careful with how you use it.
So, these are the 3 types of finishes that you can use for your wooden coasters. Hopefully, you can easily decide which one is good for you now!
FAQs
Question: What kind of sealant do you use on wood coasters?
Answer: Seal the wood coasters with 2-3 coats of polyurethane. This would keep them dry and safe from liquids. So, to fill the holes in the base, use little dowels that have been sanded down. Then, during the winter, cut the wood to keep the bark edge on a slab.
Question: How do you seal acrylic paint on wood coasters?
Answer: To begin, paint the coaster. Put your gloves on and cover your work surface. After that, use a clear sealer to seal it. Apply a coating of clear sealant spray paint to the coaster after that. Then reseal the coaster. Spray the coaster with a layer of clear sealant spray paint to make it waterproof. This is how you can put it together. 
Question: How do you seal resin on wood coasters?
Answer: Using a tack cloth, remove all dust off the coaster. Then place newspapers or a drop cloth underneath. After that, fill a clean coffee can halfway with epoxy resin and hardener. While painting, keep an eye out for runs or dry places. Allow 24 hours for the project to cure in a dust-free environment.
Final Words
Now, you know what finish to use for wooden coasters.  We hope you liked and found our information helpful. If yes, don't forget to follow what we wanted to convey.
You may have more queries regarding wooden coasters. If that's the case, please let us know in the comments section!