Do you know how to clean a mirror with just water? This content is written for giving the information to clean a mirror just using water. So read through this content to know the information.
A mirror is an important part of modern life. It's essential to keep the mirror surface clean for a streak-free reflection. Cleaning makes the mirrors long-lasting and more useful. 
Sometimes you may run out of cleaning products and you may need to clean your mirror. At that time by using water you can clean your mirror. 
Apart from this, using water is old-fashioned but an effective way to clean a mirror. Let's know how to clean a mirror just easily using the water.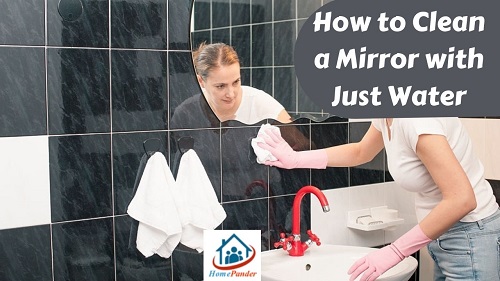 How to Clean a Mirror with Just Water?
There are so many methods to clean a mirror. Such as spray, use of alcohol, use of vinegar, use of toothpaste etc. So people often get confused about which method is appropriate or easy to clean a mirror. So they ask some questions. And the questions are-
How to clean a mirror with toothpaste?
How to clean a mirror with Windex?
How to clean a mirror with vinegar?
Let's clear the confusion and gain knowledge of cleaning the mirror properly. 
Other Methods of Cleaning 
Here are some methods that can be applied to clean the mirror.
Toothpaste:
You can use toothpaste to clean a mirror. Take a cloth and squeeze some toothpaste over the mirror then start to wipe it on the mirror surface. 
Leave it for 15-30 minutes until the toothpaste is completely dried. After it gets dry, wipe the mirror with a wet cloth. Then wipe it again with a dry cloth to dry the mirror.
Windex:
Windex is an approved glass cleaner. It can be used to clean a mirror indirectly. But this product can damage the mirror edges and ruin the mirror. So use it carefully. 
Take a little Windex cleaner in a cloth then rub it on the mirror. And your mirror will be cleaned. But it's better if you adopt any other method apart from this type of cleaning product.
Vinegar:
You can also use vinegar to clean a mirror. Take 1 part vinegar for 4 parts water and mix it well. Then engulf it into a spray bottle. 
Take a cloth and spray some solution in it or directly on the mirror. Don't let the spray dry before it dries wipe the mirror from one side to another side or from top to bottom with the cotton cloth.
Alcohol:
Alcohol can be used to remove grease stains or other elements from striping across the mirror. But be quick and rub properly before it dries. 
If you don't do it quickly you may need to re-apply more alcohol to the cotton. Take cotton and a little alcohol to rub on the stain over the mirror. Therefore your mirror will glaze after cleaning.
Steps to Clean a Mirror With Just Water
Cleaning a mirror is the most important part of the cleaning task. Whether you need to clean your bathroom, bedroom and hallway mirrors. 
It can be done in 3 steps by just using water. Using water is the best way to clean mirrors and windows. So to clean the mirror easily follow the instructions given below. 
>Step-1
Pre-Cleaning The Mirror
The first thing to do is to wipe down the mirror and the frame with a waterless cloth. Start wiping from the top of the mirror and keep wiping through to the underside. 
This process will remove the dust from the mirror and make the following steps easier. So wipe the reflector first to remove all the extra grime. 
>Step-2
Use Just Water
Maybe you are wondering how to clean a mirror at home easily? Or how to clean mirrors without vinegar? It's simple, just use water and a microfiber cloth. 
It is surprising but it works out. Get a slightly wet microfiber cloth. Then slowly wipe down the mirror and don't drip any water while wiping. 
If the cloth is dripping water then squeeze it well before going on with wiping. Dripping water can wreck your mirror and get in between the frame and the mirror.
>Step-3
Dry The Mirror
When you complete step-2 pick a clean dry microfiber cloth to wipe the mirror. An appropriate microfiber cloth will give a nice glaze and remove stripes. 
Keep wiping down from the top to the bottom of the mirror with a long continual streak. Keep wiping from one side to another of the mirror. And the mirror will be completely clean easily.
Frequently Asked Questions
1. Can you just use water to clean a mirror?
Yes, you can use just water to clean a mirror. Water is as good as some cleaning products. Some cleaning products might also not make any difference from water while cleaning. 
2. What is the easiest way to clean mirrors?
The spray is the easiest way to clean mirrors. Just mix the elements well and spray directly in the mirror. Let it settle in the mirror for a few seconds and then wipe it with a microfiber cloth or a newspaper.
3. How to clean a mirror without spray?
A mirror can be cleaned without spray. You can use other methods to clean a mirror. Such as using toothpaste, microfiber cloth and alcohol. These methods also work well to clean the mirror properly.
Note
Cleaning a mirror is not that much hard. There are so many cleaning products. But among all the easiest methods is to clean a mirror with water. 
It is a very old method but it is very useful. Whenever you run out of your cleaning product and are unable to go to the shop instantly to buy another one that time you can apply this method. Besides this, it doesn't require anything extra.
However, I hope now it is clear how to clean a mirror with just water. In this content, I discussed other cleaning methods as well for your knowledge.