How to Clean Bathroom Ceiling Mold? [Simple Hacks]
In our ''How to Clean Bathroom Air Duct'' article, we talked about the importance of proper ventilation in bathrooms. Poor air circulation and humidity buildup can lead to multiple problems. Mold growth is one of them. Since we have already covered the comprehensive mold removal method, in today's piece, we will focus on how to clean bathroom ceiling mold. 
You can clean bathroom ceiling mold using household cleaning solutions, commercial formulas, and bleach.
When we clean our bathrooms, we do not think about the ceiling usually. So, the bathroom ceiling can be the perfect spot for mildew growth. Thankfully, if the mold spread is still in its primary stage, anyone can deal with it following some straightforward steps.
Things You Need
Goggles

Gloves

Respiratory mask

Stepladder

Mold removal spray/ borax/ ammonia/ baking soda/ bleach/ hydrogen peroxide

Scouring sponge

Sanding pole

Sandpaper

Paint
How To Clean Bathroom Ceiling Mold?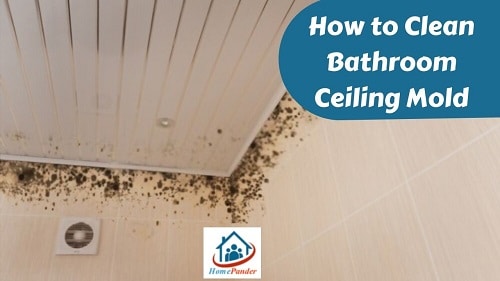 Step 1. Find Out The Root Cause
The bathroom is the most common place in your house for mold infestation. The dampness inside bathrooms creates an ideal environment for mold to reproduce. In most cases, lack of natural light and effective ventilation is the culprit responsible for mold. That said, there could be other factors at play.
A leaking roof can also be blamed for ceiling mold. If water continuously comes through the roof and falls on the ceiling, mold will appear sooner or later. Therefore, you have to take care of the roof leak before cleaning the mold from the ceiling. Otherwise, the mold will resurface soon.
Also, clean your bathroom vent fan or replace it for making sure the bathroom air remains fresh and devoid of excess humidity.
Step 2. Fix The Ladder
Take a footstool or a stepladder to reach the ceiling. For light and fan maintenance, we recommend using the Rubbermaid RMA-3. It provides a secure footing, and the upper panel has ample space to serve as a makeshift workstation. Make sure the bathroom floor is dry when you fix the ladder.
Step 3. Choose And Prepare Your Cleaning Solution
In this part, you have a lot of options to consider. You can save the trouble of preparing a cleaning solution of your own and buy a commercial anti-mold spray like the MOLD ARMOR FG502 Mold and Mildew Killer + Quick Stain Remover. It will cost you extra money, but using it will make certain the mold is gone for good.
Alternatively, you can cook up your own mold cleaner and save some money. The end product would be almost as good as the best anti-mold solution you can get on the market. Here are some of the homemade solutions:
Vinegar:

If you have taken chemistry in high school, you would remember that vinegar is the everyday term we use for acetic acid; a natural acid that can be a great cleaning material. Spray undiluted vinegar on the mold to remove it. Vinegar has an 80% plus success rate in eradicating fungi.

 

Bleach:

Bleach is an impactful mold remover, but we have reservations about using it because of the undesirable side effects it produces. It is heavily toxic and might cause damage to the surface you apply it on. That said, bleach can be exceptionally successful in removing a deeper spread of mold. For mold removal, make a bleach solution with one part bleach to ten part water

.
Baking Soda:

Sodium bicarbonate, aka baking soda, is a safe alternative to consider for mold removal. It poses no health risk, and it also makes the foul smell go away. Add one tablespoon of water to a tablespoon of baking soda to concoct a working anti-mold agent. You can also use this with vinegar for higher efficacy.
Ammonia:

Ammonia is a hydrogen-nitrogen compound that is primarily used as a fertilizer. On top of that, it can be a pretty effective cleaner. Raw ammonia can be too harsh on the surface, so you have to mix it with an equal amount of water for safe application.
Borax:

You will find borax in the list of ingredients for many popular commercial cleaners. It works wonders in getting rid of stains, it disperses a pleasant aroma to diffuse odor, and drumrolls please, it is not remotely as toxic as bleach or ammonia. Also, it is very cheap.
Hydrogen Peroxide:

Hydrogen peroxide offers protection from a range of microorganisms, including mold. Add 3 milliliters of hydrogen peroxide to 100 milliliters of water. Take the solution in a sprayer bottle and shake it well. Spray the solution on the mold afterward.
Step 4. Wear Gloves, Mask, and Goggles
After you have decided on a cleaning agent, take precautionary measures to keep yourself safe while cleaning the mold. Molds emit spores, which might get into your skin and eyes. So, you should wear a mask, a pair of gloves, and goggles before you approach the mold-infested area.
Step 5. Apply The Cleaner
How to clean bathroom ceiling mold? Fill a spray bottle with a cleaning agent of your use, and squirt it right on the mold. Spray sparingly so that no liquid gets on your clothes or skin.
Step 6. Scrub The Mold
Grab a scouring sponge and start rubbing the mold to and fro. This could be an exhausting task, so feel free to take regular breaks. You might have to get down and reposition the ladder a few times to cover the entire mold-affected region. Rinse the scrub frequently, to make sure you are not spreading the mold in untouched areas of the ceiling.
Step 7. Reapply The Solution
Spray the cleaning solution again after you remove the noticeable mold. You have to kill off the mold to prevent it from coming back. Applying the spray for the second time decreases the likelihood of mold popping up its ugly head in your bathroom ceiling again anytime soon.
Step 8. Let The Ceiling Dry
Do not do anything until the ceiling dries. Turn on the exhaust fans to accelerate the process. In some cases, you would have to reapply the paint after mold removal. If that's the case, wait for the ceiling to dry. Then, sand it before applying a fresh coat of paint. It will be unnecessary, however, if there are no stains.
What To Do After Cleaning The Mold?
As we have said earlier, removing the mold does not guarantee that it will not return to haunt you. You have to take some preventive measures to avoid future infestations of mold. Moisture in your ceiling will make it susceptible to mold growth again. So, it is important to turn your attention towards the moisture issue to prevent a reoccurrence.
Repair any water leaks. Check for and repair any leaks in the pipes that go through your ceiling. Get to the roof and inspect for leaks. To stop condensation, you can contemplate wrapping the pipes with plastic sheets. Increase ventilation by using a powerful bathroom exhaust fan. For better results, you can place a dehumidifier like the TCL dehumidifier in your bathroom.
What Health Risks Do Molds Pose?
Mold may be shooting up behind your ceiling tiles if you experience a musty odor inside the bathroom accompanied by a streak of black or white spots. Some species discharge toxins, which can make a fully healthy person ill. Mold exposure can cause symptoms like fatigue, headache, nausea, lung and eye complications.
How Much Does It Cost To Remove Mold?
HomeAdvisor estimates that per square feet of mold cleaning costs between $10 and $25. So, the larger the cleaning area is, the more expensive it gets. In extreme cases, you might have to write checks worth thousands of dollars to get mold out of your house. So, it is better to act as soon as you identify the presence of mold in your home.
You need to be wary of mold growth, particularly if you live in warmer places like Florida. In high humidity regions, mold infestations are a common nuisance. So, always keep an eye out for a suspicious speck in your bathroom ceiling and tiles. If you address the problem early, it will require minimal resources and effort.
Frequently Asked Questions
What Can I Do To Prevent Mold In My Bathroom Ceiling?
When it comes to mold problems, humidity is your number one enemy. So, your target would be to keep the bathroom humidity to a minimum. Keeping the shower door closed after taking a shower traps the water vapors inside. 
Keep the door open after showers to let the vapors get out. Also, turn on the fan for at least 15 minutes to drive out the moisture. Do not keep wet towels inside the bathroom as they add to the already high level of humidity inside the bathroom.
Final Say
Mold in the bathroom ceiling makes for a disgusting look, not to mention the health risks it comes with. Cleaning the ceiling could be a bit tricky if you do not have any prior experience. Hopefully, reading this article will help you learn how to clean bathroom ceiling mold the easiest way.