How To Clean Bathroom Tiles With Vinegar? In 3 Easy Steps
Your bathroom tiles are filled with stubborn stains and water spots. You want to clean it and make it shiny again. Vinegar is a great cleanser but you don't know how to use it effectively. 
No worries! We have the whole procedure for you and it is explained step-by-step. 
So, how to clean bathroom tiles with vinegar?
You clean your bathroom tiles with vinegar in just3 steps. First, make the vinegar solution, then scrub it. And lastly, mop the floor. These simple steps can remove the stubborn stains from the bathroom tiles and make them sparkling. The procedure will take approximately 45 minutes to clean the bathroom tiles.
We have mentioned all the detailed procedures down below. Like the outline here? Great then! Let's dive into it to know all the details.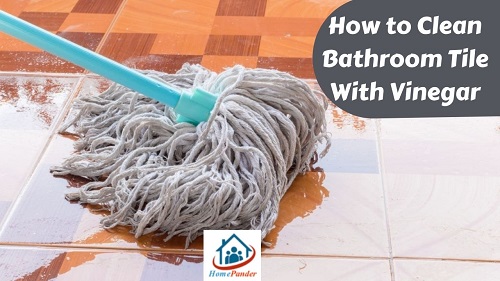 How To Clean Bathroom Tiles With Vinegar? – In 3 Effortless Steps
The solution of water and white vinegar effectively cleans all kinds of tiles. Sometimes, there are stubborn water spots and moulds on bathroom tiles. It helps to remove all these molds and make them sparkle 24/7. 
Before starting the procedure, you need to know some information. Vinegar can help clean almost all kinds of tiles. But it is best to use it for porcelain and ceramic tiles. 
However, only natural stone tiles are an exception in this case. So, first, find out what type of tiles you have in the bathroom. 
Moreover, you can't use these methods for removing all sorts of gunk in your bathroom tiles. Such as, installing your own toilet, or a new sink, will make your tiles will dirty. This can not be cleaned using these methods.
Tools Required
Before you begin, make sure you've got everything at hand. Here are the tools you need-
Mop

Sponge

Bucket

Warm water

Fan
Now, to start cleaning bathroom tiles with vinegar, simply follow these steps one by one:
Step 1 of 3: Mixing Vinegar With Water
White vinegar is one of the most effective cleaning agents of all time. As you cannot apply the vinegar directly to tiles, mix it first. Take a bucket and fill it with 1 liter of warm water. Then add 1 cup of vinegar to it and mix well.
Here are some of our top-picked good quality vinegar for cleaning. You can pick one from here if you've run out of it.
When you are ready with all the arrangements, move on to the next step.
Step 2 of 3: Scrubbing
Before you start scrubbing, run the hot shower for a few minutes. It helps to open the pores. Then take a sponge and put on your rubber gloves. Start scrubbing down all the bathroom tiles. 
This way, you can wash the wall tiles as well. The sponge will absorb the vinegar solution. Also, scrub the grouts to clean the dirt in them. You can also follow other methods to clean the grouts if you like. For stubborn stains, put extra vinegar on the sponge and scrub it directly with vinegar. 
After scrubbing, wait for 20-30 minutes before washing. It will help to get rid of the water spots and kill the mildew. 
Alternatively, if you don't like scrubbing, use hydrogen peroxide with the solution. But never directly use bleach with vinegar. That's why it causes some toxic reactions. That might create some explosion. Also, the solution can be sensitive to your hands. So, always use hand gloves while applying them.
If your bathroom is narrow, then open the windows or ventilators while cleaning. It will eliminate the strong smell of vinegar. You can use a fan as well. 
Step 3 of 3: Mopping
Lastly, sweep the floor tiles with the solution of vinegar and water. Then start mopping the floor and the wall tiles as well. Then rinse the floor with a sponge soaked with clean water. Wash the bathroom tiles and clean the vinegar solution and you are done!
For shiny finishing, use a dampened microfiber cloth and mop the floor. Clean your bathroom at least 2-3times a week to keep it shiny and new. Proper and regular cleaning keeps the bathroom tiles' floor crystal clear.
That's all we had to offer today. These steps will hopefully work effectively if your bathroom tiles are not very old. 
FAQs
Question: How to clean bathroom wall tiles with vinegar?
Answer: The cleaning process of bathroom wall tiles can be a little different from floor tiles. Regular mopping and cleaning are essential for wall tiles. Mix 2tablespoons of all-purpose cleaner with warm water. Then gently wash it with a sponge. For shiny finishing, you can wipe it with a microfibre cloth.
Question: How to clean shower tiles without scrubbing?
Answer: If you don't want to scrub the bathroom tiles, mix baking soda and hydrogen peroxide. The mixture of these two elements makes a powerful cleaning agent. It is also environmentally friendly. Use a spray bottle to apply the mixture. You don't need to scrub the tiles in this way.
Question: How do you keep black bathroom tiles shiny?
Answer: To keep the black floor tiles shiny, you can use vinegar and water solution. Black tiles often get dull faster. If the shine gets lost, it will look awful. The remedy is very simple. Mix 1cup of vinegar with water in a bucket. Then mop the floor with it. Keep doing it regularly, and you will get back your shiny black tiles easily. 
Conclusion
We hope our easy steps helped you understand how to clean bathroom tiles with vinegar. Try it at your home and don't forget to give us the feedback. 
All the best with the new methods and happy housekeeping!