How to Clean Bathtub Funk- Problem Solved!
Bathing in a dirty bathtub is not really a great experience. Moreover, a funky bathroom is not beneficial for health. 
So, how to clean bathtub funk? 
First, identify the correct stain type among the four types. Then, get yourself the required stain remover. Apply the paste on the stain and wait for 30 minutes. Then rinse the bathtub. Follow this process until the stain is gone. Lastly, you can make a DIY post-shower spray to stop build-ups.
We will come back to this further down the article but here's a link if you want to see more about the special cleaners for disgusting bathtubs.
However, this is nothing but just a heads-up. Read along if you wish to get rid of stains once and for all! 
Table of Contents
How To Remove Stains From The Bathtub?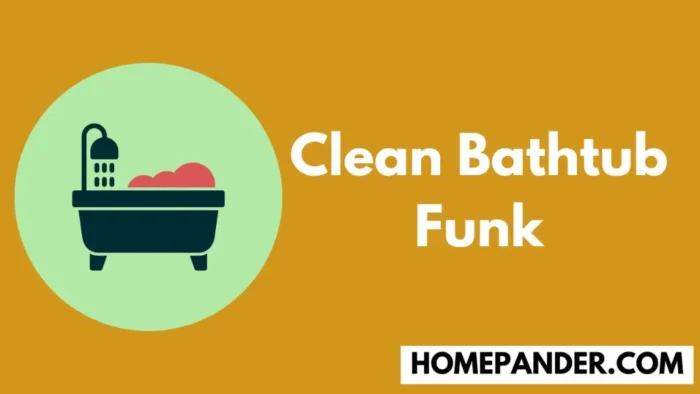 There are numerous methods to get rid of bathtub stains. However, all stains aren't the same. So, identifying the correct stain type is pivotal. 
We've simplified the overall process into 5 steps for bathtub stain remover. So, let's get geared up and head right in – 
Step-01: Identify the Stain Type
Applying a remover without knowing the stain type will only waste your time. The easiest way to do that is to check its color. We've made a small chart to give you a quick sneak peek – 
Color
Stain Type

 

Brownish-red 

Accumulation of Iron 

Black

Sulfur bacteria

Rust color/Bluish green

Acidic Water 

Yellow 

Human body oil 
Now, you can easily recognize the stain type and take steps accordingly! 
Step 02: Apply the Correct Stain Remover
Since there are 4 stain types, there are 4 different solutions as well. Here we've listed another short table for you – 
Stain Type (Color)

 

What To Use

 

Brown-ish Red or Black

Baking Soda + Hydrogen Peroxide

Rust color / Bluish green 

Borax Powder and Lemon juice

Rust (Acrylic bathtub)  

White Vinegar 

Yellow 

White Vinegar
These are everything that you need to know about stains and stain removers. Now, it's time to gather the ingredients and prepare the correct stain remover on how to clean bathtub stains on acrylic. 
Step-03: Gather the Essential Ingredients
Among all the cleaning methods, stain removers are very popular. It only requires a microfiber cloth and you can start cleaning right away. 
However, commercial stain removers are expensive. But you can easily make them and save a lot of money! 
Here, we've made a list of what you'll need. However, you'll only need to collect the correct ingredients according to your stain type! 
Baking Soda

Hydrogen Peroxide

White Vinegar

Borax Powder

Lemon Juice 

A Spray Bottle

A Brush

Abrasive Sponge

A Microfiber Cloth. 

Hand Gloves 
Manage these ingredients as soon as possible and get started! 
Step-04: Prepare the Stain Remover
If you're panicking already, don't! Making an efficient stain remover isn't hard at all. In fact, it's pretty easy. 
Just follow the instructions below and you'll have the perfect stain remover. 
Combine Baking Soda and Hydrogen Peroxide For Red and Black Stains
If you're dealing with red or black stains, make a cleaning paste. 
First, take a bowl and pour 4 tbsp of baking soda. Now add 2 tbsp of hydrogen peroxide. Gently stir in the bowl until it becomes a paste. 
Simply put, you'll have to maintain a 2:1 ratio of baking soda and peroxide. 
Blend the Borax Powder with Lemon Juice for Rust Stains
Borax powder is used to remove rust stains. These stains are a little bit different and require a different approach! 
First, take 1 cup of borax powder. Then add ¼ cup of lemon juice. Stir slowly until they form a paste and your rust remover is ready! 
However, you can also use a rust stain remover for a bathtub that is very efficient and time-saving. We've mentioned some of our top picks for your ease- 
This will help you to get whichever you like and get started! 
Prepare a White Vinegar Solution For Yellow Stains
Making a cleaner with white vinegar is pretty simple. First, pour some water into a bowl or bucket. 
The required vinegar amount is the same as the total water amount. Give it a little stir and it's ready for cleaning! 
Increase the amount of vinegar according to the stain's toughness. But refrain from using full-strength vinegar on acrylic tubs. 
Step-05: Apply the Cleaning Agent
Whether you've made a paste or a solution, it's time for some action. This procedure can be completed in 5 steps – 
First, soak the bathtub and get it completely wet.

Now rub the paste using a brush. If you're applying vinegar, spray all over the stain properly!
It's time to wait and let the remover do its job. We made a simple chart regarding wait time –
Stain Type

 

Stain Remover

 

Wait Time

 

Red and Black Stains

Baking Soda Paste

1 – 2 Hours 

Rust Stains

Borax Powder Paste

15 – 30 Minutes

Yellow Stains

White Vinegar Solution 

20 – 25 Minutes 

Rust Stains (Acrylic Tub) 

White Vinegar Solution

20 – 25 Minutes
      4. Take the abrasive sponge and scrub the stains out. However, if you're using acrylic tubs, use a microfiber cloth. 
      5. Rinse the bathtub and check if the stains are gone. If not, follow these procedures until it's completely vanished.
And with that, your bathtub is completely clean and fresh anew. Don't forget to pat yourself on the back because you've done a great job! 
Finally, these may seem like too much work for you. Therefore, don't hesitate to call the professionals! 
Check our latest guide about: How to Clean Your Bathtub Naturally without Chemical.
Also, read our latest guide about: How To Clean Non-Slip Bathtub Strip It: Here's How.
FAQs-How to Clean Bathtub Funk
Question: How do I make my dull porcelain bathtub shine?
Answer: Get a bucket of 1 liter of hot water. Pour 1 tbsp of baking soda and ¼ cup of white vinegar into it. Apply the mixture and use a soft cloth to clean the tub. 
Question: How do you tell if a bathtub is a fiberglass or acrylic?
Answer: An acrylic tub is usually warmer than a fiberglass bathtub. They are smoother and come in many colors! 
Question: Is Vinegar safe for acrylic tubs?
Answer: Vinegar is the overall safest option for acrylic tubs. However, refrain from using an abrasive sponge on acrylic tubs. They can easily scratch the bathtub. 
Here is a helpful video on how to remove stains from acrylic bathtub.
In Conclusion
Now you know how to clean bathtub funk. We hope you got what you were looking for! 
Was the guide helpful? Also if you've something to ask, don't hesitate to use the comment section. 
Good luck!