Winter is finished. Are thinking of starting the lawnmower for cleaning your favorite garden? Wait don't be hurried. Read this article. Do you get to how to start a lawn mower after winter season?
As we know that the job of a lawn mower is with trimming grass cleaning rubbish from the garden. In case of the lawnmower, the winter season is hibernation period. After a long time, the lawn mower is going to work for your garden. So, you should check the machine properly before star that.
After hibernation, it may star sluggishly. Tweaking can start that properly. Sometimes lawnmower won't start to run. There is 3 most common reason that prevents to start.
The spark plug can be dead for a long period of winter storage.
The used leftover fuel may create that problem. Gasoline will turn into clog if stay in the same place for a long time and float bowl can be cover with stale fuel if used.
The battery may be dead over a long uncharged period.
Things what you can do?
You should go with a proper way to begin after the storage period. You will need to have some tools to begin the below-mentioned process;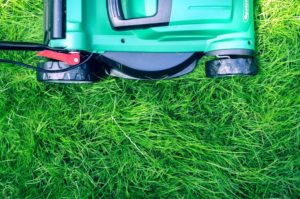 Oil, if you think there is not available oil.
A container of gas.
Wrench for the spark plug.
Cleaning Towel.
So, let's follow steps :
Get the lawn mower to begin
Your lawn mower maybe two-stroke or 4 stroke motors. For a two-stroke engine, make sure that the portion of oil and gas mixed perfectly. On the other hand, for 4 stroke -motor, just check that fuel is available.
Check out the spark plug
It is a tiny product but the mighty one. You have to make sure that the plug is in gently connected and working condition. If any problem found then change it. Fortunately, the cost of the spark plug is low and easy to connect.
Check out the principle button
Most of the lawn mower has black or red principle button. If you can't find the button then read the instruction manual to find it. Gently press the button 3-4 times. If yours does not have that button then any need worry. Simply avoid this section.
Check out the gas-feed position
Check out that either it is set to mid-to-high position or not. If not then set it to the mid-to-high position. Don't miss it. Otherwise, the machine will stop in a few minutes after it started.
Tuning the opener cord
The tuning is for lawn mower those have opener chord. Those lawn mowers have a straight bar close to handle. Now pick up the starter handlebar do a few times up and down. Observe;
That if it is making any sound or not. If not check the starter plug is connected or not.
That if it is making startup sound but not starting then check fuel availability.
If any problem found to above issue then fulfill the above-mentioned requirement.
Well, if the mower started then you are ready to begin your garden clean.
The lawn mower is not starting yet?
In that case, your lawn mower needs to diagnose the problem;
Check the starter is either stuck or not. Most of the time occurred from the stuck starter. In that case, pull out the spark plug and pull in again. This may solve your problem.
The lawn mower can start to smoke after the start and the smoke will reduce when it fully started. If it is only smoking but not started the see a mechanic.
If it is not working at all then your mower may die. So, an expert technician is must to solve this issue.
What is the precaution need to make for the lawn mower to get less problem and smooth run?
Some small precaution will increase the lawn mower lifetime. It is just regular checking and tuning. Those are;
Check the fuel and clean the dipstick before starting every time
Before you begin every start make sure that motor oil is enough for the run. You can observe it with the help of dipstick that inserted into the tank.
One more thing is, every time when you are going to fill-up oil and check it with the dipstick, make sure that you clean that carefully.
Fill-up the gas tank to recommended level
The given instruction manual and at the fuel gas tank you will find the recommended level of fuel. So, don't over fuel the gas tank. Otherwise, gas can drop out and will cause an accident.
Check the recommended gas type
It is necessary to know that what type of gas needed to run your lawn mower. Don't fill another type of gas rather than yours. Don't know what type of gas need? The solution is in the given instruction manual. So, look for that.
Verdict For Lawn Mower
You may now have well educated about how to start a lawnmower after winter season? You will not find any difficulties if you follow the given instructions. The guide will also help you to keep your machine in good condition as well as you will get maximum output from the lawn mower.
So, have a happy gardening!!!