Is It Ok To Wash Bathroom Rugs With Towels? ( Here's The Truth)
You absolutely dread doing laundry and want to be done with it as soon as possible. To be quick, you want to wash your bathroom rugs with your towels. 
But is it ok to wash bathroom rugs with towels?
Yes, you can wash your bathroom rugs with your towels. But this can be an unhygienic practice and you should avoid doing so. Bathroom rugs contain mold and other bacterias from regular use. This can overlap with your towel and contaminate it as well. New bathroom rugs can bleed color and ruin your towel.
Want more info on this matter? Well, we have a whole section curated just for your right down below. So let's jump right to it!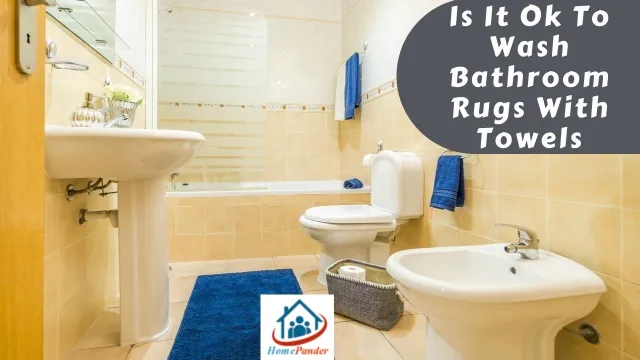 Should You Be Cleaning Your Bathroom Rugs With Towel?
This question is a bit complicated to answer with a yes or no. Now you can clean your bathroom rugs with towels. But, we strongly discourage washing their bathroom rugs with towels. 
Wondering why? Let's explore. 
Now washing bathroom rugs with towels is a great way to save time. However, this is an unhygienic method of cleaning.
Bathroom rugs tend to collect a huge amount of bacteria and urine backslash. It's due to their absorbent nature, they will attract germs and bacteria over time. 
Moreover, your bathroom rug might also have growing molds from constant exposure to moisture. Cleaning the same germ-contaminated rugs with your towels is not a great idea. 
Hence we suggest you simply keep them in two separate laundry loads for washing.
Now If you don't mind mixing them both, there's no problem with washing them together. In fact, towels are one of the few options you can wash alongside bathroom rugs.
When washing, it's better to wash towels and rugs of the same materials and colors. In this way, there's less chance of your towels being ruined. 
Also on the tag of your towels and rugs, there are some machine-related instructions. Make sure to follow them. For example, if your rug has rubber or plastic backing it'll require air drying. 
Another note is to not mix chenille bathroom rugs with towels if you're using a dryer. This can make the bathroom rug collect lint, making them harder to dry. 
Oftentimes we place bathroom fresheners near our bathroom rug. Doing so can contaminate the bathroom rug with chemical residue as bath rugs have absorbent properties. Hence can make it smell weird. 
3 Methods You Can Use to Wash Bathroom Rugs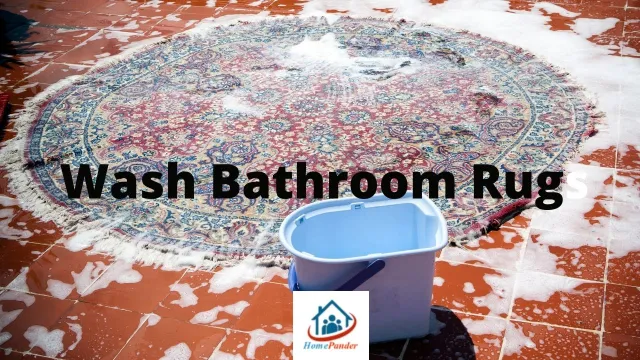 Now you can use three different methods to clean your towels and rugs. But before you do there's one thing you need to keep in mind.
That is, you need to keep in mind the information written on the tags of your items. These contain different materials and hence require different washing approaches. So keeping that in mind let's look at the 3 effective cleaning methods.
Machine Wash The Carpet
Bathroom rugs made of cotton, nylon, chenille, polyester, and plastics can be washed using washing machines.
The mold and bacteria formed in bathroom rugs need a high temperature to kill. So, you need to wash them in a warm setting. But make sure it's made of the materials listed above. 
However, if your rug is made of memory foam, you need to select a cooler temperature. Otherwise, the synthetic material in your rug might be ruined.
Moreover, you should be careful to choose a gentle cycle setting when washing the rug. This will prevent the slip-resistant surface of the rug from deteriorating.
Now there's an advantage if you're washing your rugs and towels at the same time. That is, in the case of washing the rugs solely, the machine might make loud noises. So adding towels balances the machine load and hence prevents the noise.

However, you need to make sure that you're not overloading your machine. 
Vinegar Wash The Carpet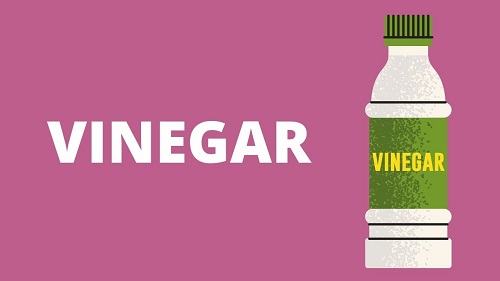 If you have an all-plastic rug, you can use vinegar for cleaning your bathroom rug. Take ¼ cup of white vinegar and pour it in with the detergent in your carpet cleaner.
Now do this in case you notice that your rug is letting off some pretty strong odor. Add a few drops of tea tree oil alongside vinegar. That will take care of the unwanted smell coming out of the bathroom rug.
After that, clean your carpet like you normally would!
Hand Wash The Carpet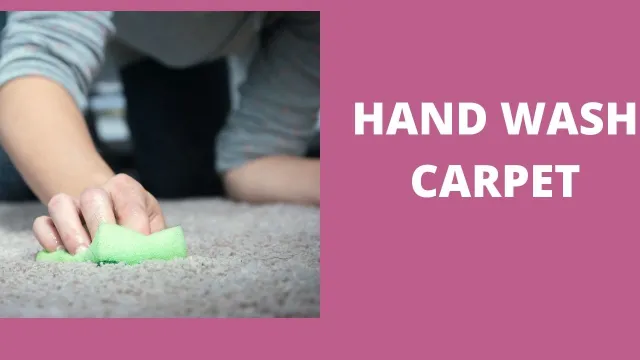 Rugs made out of bamboo, jute, and other natural fibers need to be hand-washed. An advantage of washing these by hand is that it maintains your material's consistency.
All you need is a mixture of laundry detergent and water. Soak the bathroom rug in the mix and scrub it using a sponge. Rinse the rug in cool water after cleaning to wash the soap water away.
Avoid soaking bamboo rugs completely in the mixture. Instead, use a sponge dipped in the mixture to clean the rug.
Is It Necessary To Wash New Bathroom Rugs?
Manufacturers put on an anti-absorbent coating while selling new bathroom rugs. This affects the texture and absorbency of the rug. So it's necessary to wash your bathroom rugs before using them for the best outcome.
Take a look at some of the most tasteful bathroom rugs that we recommend. These gorgeous-looking and will fit perfectly for the best bathroom rugs with the appearance of your bathroom:
Note: Don't wash new bathroom rugs with your normal laundry load. Keep it separate. But if you have some newly bought linens, you can add that to the load. 
Moreover, make sure the materials and the color match. This is because new colorful rugs might bleed color and ruin your other towels.
Drying Bathroom Rugs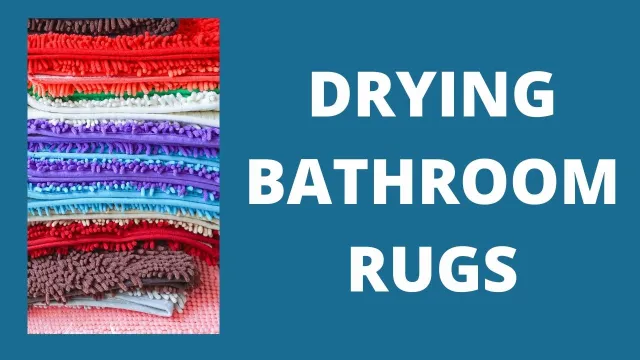 You should always check the instruction label on the rug to decide the dying method. There are two common ways of drying bathroom rugs. Here goes:
Air Drying
Air-Drying is the most popular method out there. And most of the rugs should be dried that way. Hang the bathroom rugs outside using a clothesline. The wind will eventually dry the rug materials and make them ready for use. 
If you live in industrial areas and have no such open spaces, try indoor drying! All you need is a and use an electric fan and a hanger stand! Hang your rug in front of the fan and let it dry the rug for you.
Drying time will depend on the thickness and materials present in it. Smaller rugs can be completely dried within 24 hours. Bigger and thicker bathroom rugs might take a day or 2 more to dry.
Tumble Drying
Another way of drying your bathroom rug is by tumble drying. This is the fastest method of drying any rug out there. But keep in mind that tumble drying is not recommended for all rugs. 
For the drying process, you need to set your dryer to the lowest setting. After that wait for the machine to go off. However, you should never tumble dry plastic mats or woven material rugs. As the plastic might melt and the wool might disintegrate. 
Which Bathrooms Rugs To Choose?
Looking for an easy time washing your bathroom rugs? Go for cotton bathroom rugs!
Not only is cotton more absorbent than other materials, but it's also easier to wash. Compared to other materials, cotton can easily release stains. This makes it the best choice when it comes to picking bathroom rugs.
Bamboo rugs can offer you a cheaper option if that's what you're looking for. However, they might not be as comfortable as cotton rugs. But they can offer a more modern and aesthetic look. So if you're looking for a well-planned design for your bathroom, keep bamboo rugs on your wishlist!
Likewise, the absorbent properties of Chenille rugs make them the perfect rug for very wet bathrooms. In case you're looking for durable options, nylon and polyester rugs are the ones for you.
Whatever the choices, make sure to wash your bathroom rugs regularly. This will keep your rugs free from mold and other bacteria. 
And this ends our detailed segment!
FAQs
Question: How often should you wash bathroom rugs?
Answer: The frequency of washing bathroom rugs depends on their use. However, it's recommended to wash these every 2 weeks. But if it's used in a very busy place, it's better to wash it every 4-7 days. 
Question: Can I dry rubber-backed bathroom rugs in the dryer?
Answer: Avoid drying rubber-backed bath rugs in the dryer. Also, avoid ironing your rubber-backed bathroom rugs by any means. This can melt the backing of your bath rug. You can opt for a quick tumble without heat in the dryer if you need it.
Question: Is it okay to wash bathroom rugs with clothes?
Answer: No, you should never wash bathroom rugs with any other clothes. Bathroom rugs produce a massive amount of lint when it's washed. So washing clothes alongside bath rugs can leave your cloth with lots of lint.
Conclusion
Now you know whether is it ok to wash bathroom rugs with towels or not. Most bathroom rugs and towels are machine-washable. Try washing them in separate loads of laundry to maintain proper hygiene practices.
With that said, we hope this article was useful to you. Have a great day!