How to Make Matte Marble Tile Glossy: A 5 Step Solution Guide
Are you tired of all the dirt that accumulates in your matte marble tiles? Or do you simply just want glossy tiles? Glossy tiles are a perfect choice for any homeowner who is looking to elevate their floors. 
So, exactly how to make matte marble tiles glossy? 
First, clean your matte tiles thoroughly. After that apply an even thin coat of glossy marble tile sealer. Dry the marble tiles and apply the second layer of glossy tile sealer. Apply another coat if necessary. 
Still not clear about the whole process? Well, don't worry. An in-depth step-by-step guide has been provided in our article. After following the instructions you can easily make your tiles glossy. 
So what are we waiting for? Let's jump right in! 
Why Making Matte Tiles Glossy is Necessary?
We understand that matte tiles are not for everybody. As good as it looks, it also takes a long time to clean it. 
Matte tiles collect dirt and debris easily. As it is porous dirt can accumulate in a short time. Whereas in glossy tiles, dirt doesn't accumulate as easily. 
On top of that, glossy marble tiles make your home look more polished and expensive. It makes your house look brighter and bigger. So having glossy tiles might be the right decision for you. 
Choosing the Right Method of Making Your Tiles Glossy
Different types of marble tiles are used in our homes. Before making your matte floors glossy, you need to identify what type of tile you have. As different types of tiles require different methods of making them glossy. Just like how cleaning dark grout turned white is different from plain white grout. 
If you have stone tile floors then choosing a glossy tile sealant is the best option for you. Glossy tile sealant works best on porous marble tiles. It can also be used on porcelain tiles. 
On the other hand, glossy tile sealant might not work as well for ceramic tiles as it is nonporous. However, many people still use it to make their matte ceramic tiles glossy. Just check on a singular tile before applying the glossy sealant. 
How to Make Matte Tiles Glossy: 5 Easy Steps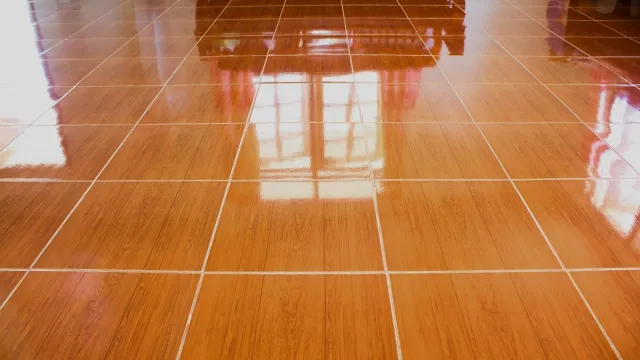 Making your matte tiles glossy isn't the hardest thing in the world. However, following a step-by-step guide is necessary if you don't want to ruin your tiles. With some patience, you can easily get the job done. 
Now, let's look at all the necessary and quintessential tools that will be needed to make matte tiles glossy.  
Tools Needed
Broom / Vacuum cleaner
Bucket
White Vinegar 
Water
Soft bristle brush
Gloves 
Glossy tile sealant 
Microfiber mop / thick bristle paint brush
Fan
Now that you know all the tools that you need, let's get into the process.
Step 1 of 5: Cleaning The Marble tile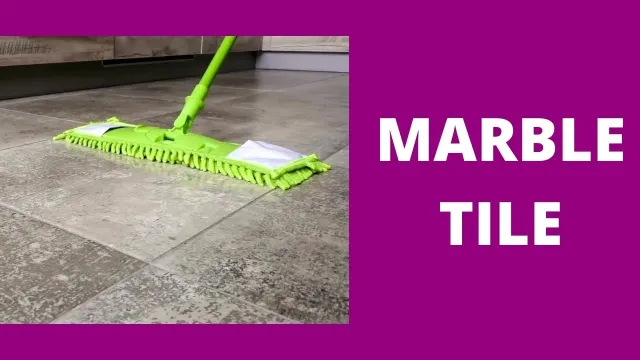 The first step of making your matte tiles glossy would be to clean the existing tiles. The cleaning process of marble tiles is a bit different from cleaning saltillo tile. 
Using a vacuum cleaner or a broom, clean off all the dirt and dust from the tile. Make sure that all the dirt on the marble tile is cleaned spotlessly. 
After that, in a 1-gallon bucket, dilute 1 part vinegar with 1 part water as pure white vinegar will cause discolorations in your tiles.  
Now, mop the floor using the vinegar solution. You can use a brush to get rid of adamant stains. The brush is also excellent for scrubbing around the tile grouts.
Sometimes, drills are used for clearing the grout, but make sure to stop drill bits from slipping on tiles. 
After cleaning the tile thoroughly, dry the floor using a fan. Now your marble tiles are ready for the next step. 
Step 2 of 5: Laying the First Layer of Sealant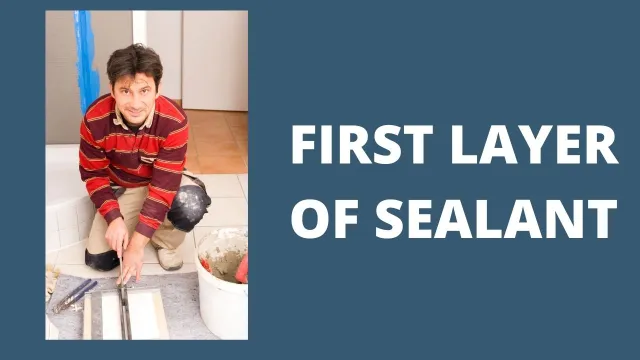 Now that you've cleaned your marble tiles, you need to prepare them for putting the first layer of sealant. 
As we've mentioned before, if you have ceramic tiles, make sure to check a small section with the glossy tile sealer. Doing this will help you to understand how much sealer is necessary for your ceramic tiles. 
Using a clean microfiber mop or a thick bristle paint brush, apply a thin layer of the glossy sealer. Make sure not to apply a thick layer as it will result in your tile surface cracking. 
These are our recommended glossy marble tile sealers: 
Pull the sealer out of the grout lines before it settles in the grout lines. Make sure to not make sealer bubbles while applying the glossy sealant. 
Patiently apply the sealer to the entire floor evenly.
Step 3 of 5: Drying Your Marble tile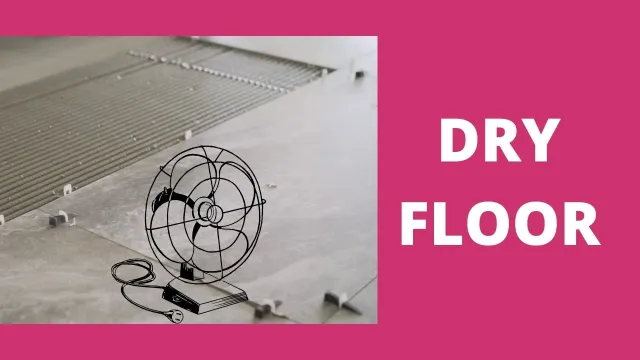 After evenly applying the sealer to your marble tiles, dry them appropriately. Turn on your fan and dry the floor. 
One should be able to walk on the floor before applying the second layer. So waiting for 30-60 minutes is ideal. You shouldn't also wait too long as the sealer might settle on the tiles.
Step 4 of 5: Applying 2nd and 3rd Coat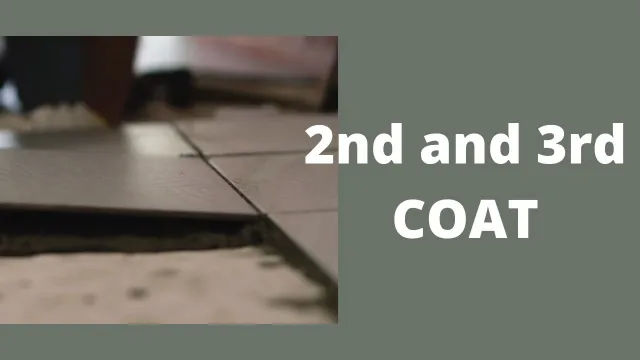 Now applying just one coat won't be enough to make your matte marble tiles glossy. So, applying at least three thin coats is necessary. 
Just like the first coat, apply an even layer with your microfiber mop. Watch out for sealer bubbles. 
If you see bubbles on your tiles then using the mop press on them. After that spread the glossy tile sealer evenly. 
Wait for the second coat to dry down. The second coat might take a little bit longer than the first coat to dry down. After that apply the third coat in the same way. 
If after applying the third coat you still don't think your matte floor is glossy, then apply another thin layer. 
However, it is not recommended to apply more than three coats of glossy tile sealer. Too many layers of sealer can start to crack and not properly adhere to the preceding layers of sealer. You will not gain much shine or glossiness with more than three layers of sealer.
The key to making your floor seamlessly glossy is to apply thin layers. This will make sure your tile isn't uneven and cracked. 
Step 5 of 5: Testing Your Tile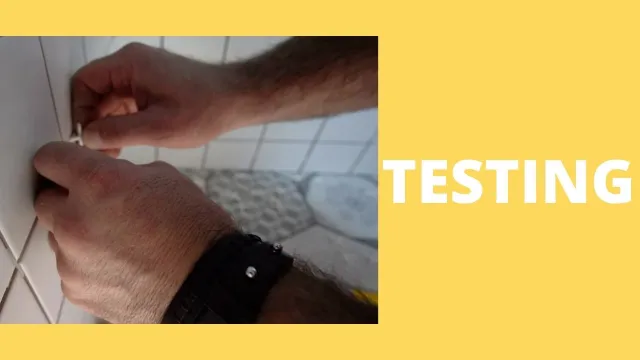 After applying the final coat, let it dry overnight. This will make sure that the glossy sealer is settled on the tile. 
The next day, walk on your newly coated marble tiles and see if it has dried down properly. After that, look for uneven spots. If you see any dried thin-set on the tile you have to clean it. The process of removing dried thinset from tile can take an additional 10 minutes.
If everything is normal, then your newly glazed marble tile is ready!
Keeping Your Tiles Glossy: Do's
Now that your matte marble tiles are glossy, you need to follow some tips to maintain the shine of your tiles. Some of the tips are given below: 
Make sure to apply a glossy tile sealer after every two years. 
Clean the floor using a sweeper or a vacuum cleaner so that dirt and debris don't collect on your tiles. 
Use gentle cleansers to clean the floor.
Keeping Your Tiles Glossy: Don't's
If you don't want to ruin your glossy tiles then avoid doing the following: 
Don't use harsh chemicals or industry-grade cleaning agents to clean your marble tile. 
Avoid keeping your marble tiles wet for too long. 
Don't stomp on the ground too hard as it would break the glossy sealant.  
Now that's everything you need to know to make your matte tiles glossy. 
FAQs
Do I have to reapply the glossy sealer?
Yes, you have to reapply the glossy sealer after every 2 years. Some high-traffic areas might require you to reapply after a year. 
How can I avoid bubbles while applying the glossy sealer?
Applying the glossy coat slowly and evenly will cause no bubbles to arise. But in case a bubble comes up simply press the bubble with the mop.
Can I apply the glossy sealant by myself?
For the most part yes, you can apply the glossy sealant yourself. However, seek professional help if you see that you cannot evenly apply the glossy sealer. 
Conclusion
With that, we have come to the end of our article. We hope our in-depth guide helped you to make your matte marble tiles glossy. 
If you have any more questions on how to make matte marble tiles glossy? Leave them down below. We would love to answer all of your queries. 
See you next time!