When it comes to replace the chain, one question arises in mind that "what the best chainsaw chain is?"It is a good decision to change your dull, broken or bent chainsaw chain. Because a damaged one can cause a serious accident to the operator and your total work can ruin. Damaged chain can cause:
Decrease the performance.
Will produced more heat than normal.
Need more effort than normal
Create over dust.
So, it is time to change. There is a lot of manufacturers out there. So, it is a bit difficult to find the best one. You may need to read lots of chainsaw chain reviews article to find the best one that fits to your existing chainsaw. To make that easy, I am here discussing some manufacturer chainsaw chain performance. It is not possible for me to analysis all the brand out there. For that reason, I only select most three popular brands;
Stihl,
Husqvarna and
Oregon
Top 3 Brands Which The Best Chainsaw Chain?
Stihl:
The company established in the year 1926, since then they produced best quality chainsaw, blower and trimmer and off course accessories of that machine. This is a German brand and it is said that they are the first regarding making the best quality product. They also make their own chainsaw chain and the guide bar also. No other company do that.
No doubt they produced the best quality. To ensure the quality and increasing life time of chain they smooth every microscopic edge of chain. This a very effective process.
Pros of Stihl Brand chains:
We know that chain can be stretch. To reduce this effect, they supply pre-stretched chain. So that the chain is excessive stretching protected.
Needless amount of oil for the chain.
Usually those chains are light-weight and easy to maintain.
They use less number of cutting teeth. Thus, you will need less number of teeth to sharp and the sharpness last longer than others. So, you can save time.
There is color indicator for every chain for understanding kickback feature. The color is green to yellow. Green is for high and yellow is for high kickback.
They produced square-based cutter. The benefit of the square- cutter is that produced very low friction and cut smoothly.
Look here Stihl brand chains here
Cons of Stihl Brand chains:
Usually their chain is expensive.
Low-kickback chain is not made for all the models they have,
Low-kickback chain cut a little bit slower than others. It is not a big problem, if have some patience in your work.
Husqvarna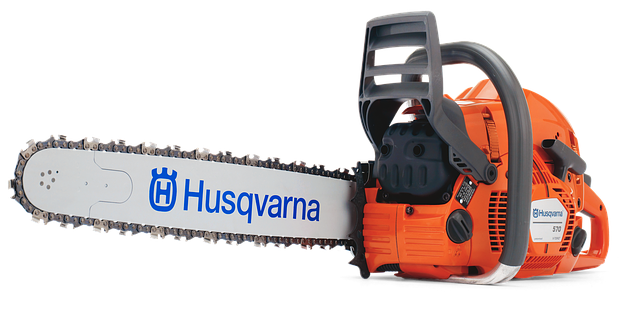 Husqvarna established in Sweden in the year of 1689. A sister concern of Husqvarna Group. They are in leading position for the products of chainsaw, trimmer and garden watering tools, lawn mower and also diamond cutting tools in the European market. So, you may now understand that they are master in the sector of cutting.
One problem is they produced good quality of chainsaw but in the sector of accessories such as chainsaw chain, the product is not up to the mark.
Pros of Husqvarna chains:
Very much cost effective.
Easy installing method to install chain.
When you sharp the chain, it will cut like you cutting butter. So, no need replaces the chain frequently.
Chain stretching problem is not noticeable.
Cons of Husqvarna chains:
There is a limitation of fitting various types of chainsaw model and chainsaw Brand.
Need to sharp the chain after few uses.
There is an insufficient supply. So, hard to find the expected one that you need.
Oregon
The company established in the year 1947 and they are famous for the product of chainsaw, guide bar. They also produced lots of forestry equipment. The company is a sister concern of Blount Incorporation. The headquarter situated it the famous city Portland.
One of the leading brands in the sector of chainsaw, guide bar, sprocket and their accessories. They supply their product more than 100 countries including USA and Canada.
They produce chain with the best material to make like the original one in all aspects. Certainly, they are in leading position in that sector. So, no doubt they are good at it .
Pros of Oregon chains:
Very fare price compared to the quality.
Almost every brands chainsaw chain produced by the company. So, a large variety can be found.
Those chains are hard and can be used for commercial and non-commercial purposes.
Available in the market. So, you don't need to wait for their chain.
Cons of Oregon chains:
Overheat can damage the chain easily.
Chain can cut unevenly after a few uses. So, you need to sharp frequently.
Dirt and rock damage the chain very often.
Thanks For Rolling
From my point of view, I can tell you that Stihl is the best chainsaw chain brand. Their chain performs faster, low-kickback feature, sharpness last long time. They are reliable but pricy. But in terms of continuous and regular use this brand is unbeatable.
If it is concern about the price then you can go for the Oregon brands chain. There is a wide variety of range and available also. So, no need to think about your chainsaw model. You will find there.
Husqvarna chains are good also. But if it comes to the point of replacing the chain, I will suggest you to choose from Stihl or Oregon one. If you ask me "who makes the best chainsaw chain in the world?" in short, I will answer "Stihl".
Last of all I can tell you that try various brands chain by yourself then you will find the perfect one that suits with you and your chainsaw.