How to Clean a Bathtub With Bleach? – Here's The Solution!
After a long tiring day, who doesn't want a nice relaxing bath? Perhaps you went to the bathtub and saw it is stained with mildew. Your tiring day will become even more stressful after experiencing a dirty bathtub.
You may wonder how you can remove the mildew and keep your bathtub clean and fresh all the time. 
In this guide, we're going to provide you with the steps on how to clean a bathtub with bleach. Besides, we will give you the safety precautions you should take before cleaning a bathtub and a great example of bleach for bathroom cleaning can be found HERE.
The steps are easy. You must first pour water into the bathtub. Mix a solution of bleach water and spray it on the affected areas. Pour water again and this time apply baking soda to remove the stains. Lastly, wipe away with a dry cloth. 
Let's dive in right now to know the details of the steps!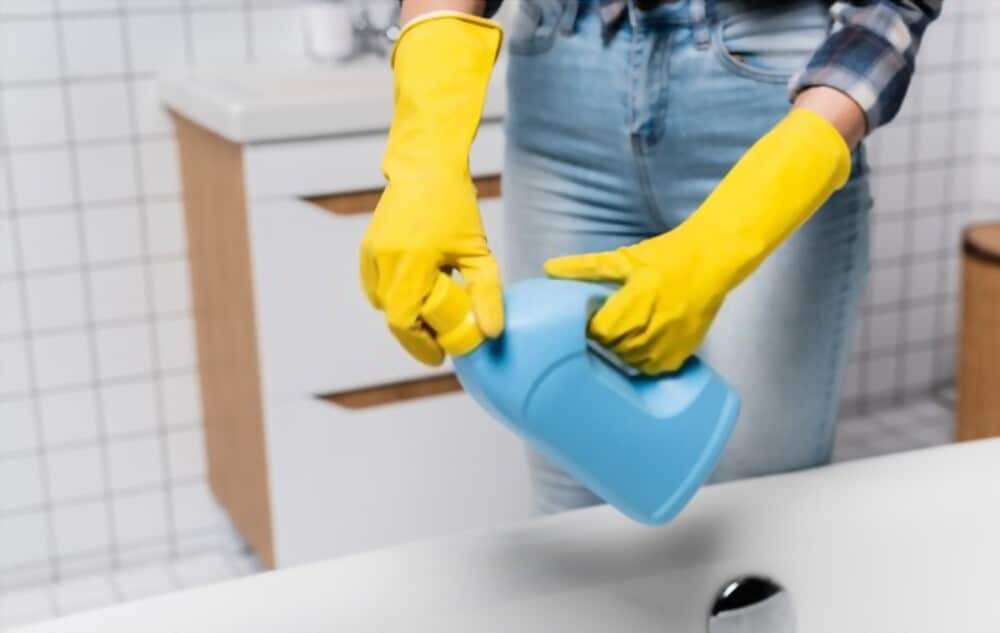 How to Clean a Bathtub With Bleach – The Procedure
Now, we'll answer the main question. First things first, you should know the materials you should have before cleaning your bathtub. You may have to purchase some of the things, other stuff you may have available in your home. 
To make things easier, we have come up with a list of things you should have.
List of supplies you need
Clean Bucket.

Hot water.

Bleach.

Scrub Brush.

Sponge.

Brush.

Baking Soda.

Clean and dry cloth.
Cross-check the list. If you have all the supplies above, then let us help you to clean your bathtub. Hear our insights about the detailed steps of washing a bathtub with bleach and baking soda now!
Step 1: Remove the essential things.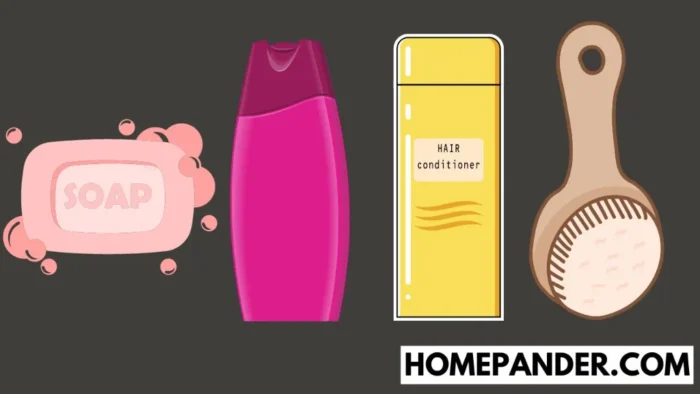 You should remove the soap bar, shampoo bottles, conditioners, brushes, and loofahs from your bathtub in the first place. Place the stuff away in a safer area for the time being while you clean your bathtub with bleach. 
Step 2: Pour water all over the tub
.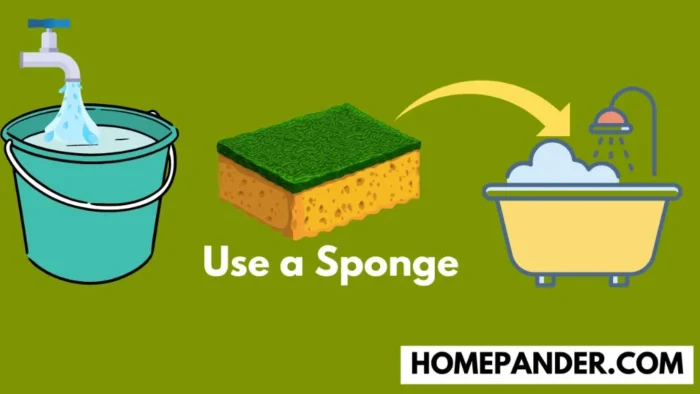 You can turn the tap on or fill a clean bucket with water and pour it all over the tub. 
You can use a sponge to remove the extra dirt from the bathtub surface. Hence, run a sponge onto the floor of the bathtub. 
This will help bleach to remove the stains or mildew comfortably and thoroughly. Do this step while the water is still on the surface.
Step 3: Make a mixture of bleach and water
.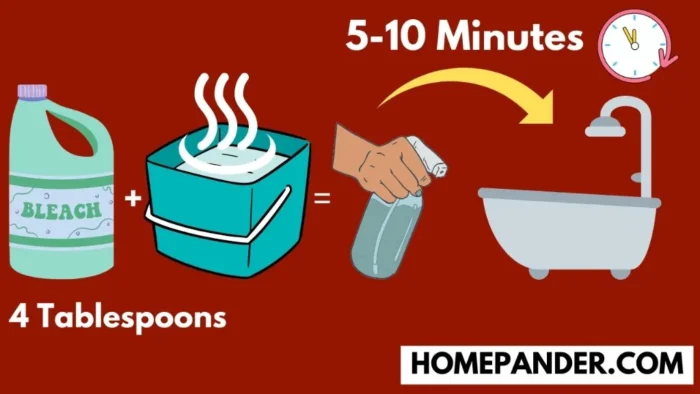 A mixture of bleach and water should contain hot water and 4 tablespoons of bleach. Pour the water as per your wish. Then, fill the spray bottle with this solution. 
Spray the mixture onto the affected areas. It can be where mildew exists or where the stains are. 
Allow the bleach to soak into the tub. Give the bleach to dry for 5-10 minutes before you proceed on to the next step.
Tip 1- You can mix 4 tablespoons of Clorox disinfected bleach with 1 gallon of water. This product can be poured easily as well as remove stains too.
Tip 2- You don't always have to put bleach on the bathtub for cleaning. You should use bleach to clean your tub only when there are stains or molds in your bathtub. You can also use bleach to disinfect your bathtub.
Have a look at the three different bathtub bleach cleaner recommendations for the best bathtub bleach cleaner–
Step 4: Scrub the bathtub surface
.
For this step, first, you have to fill the bucket with a mixture of half a gallon of water and 2 tablespoons of soap.
Pour the bucket into the tub. Use a sponge or stiff brush to scrub the tiles of the bathtub. Scrub it by moving your hand in a circular motion smoothly. 
Rinse the tub with water now and then as long as the soapy water doesn't go away. 
Step 5: Mix baking soda and bleach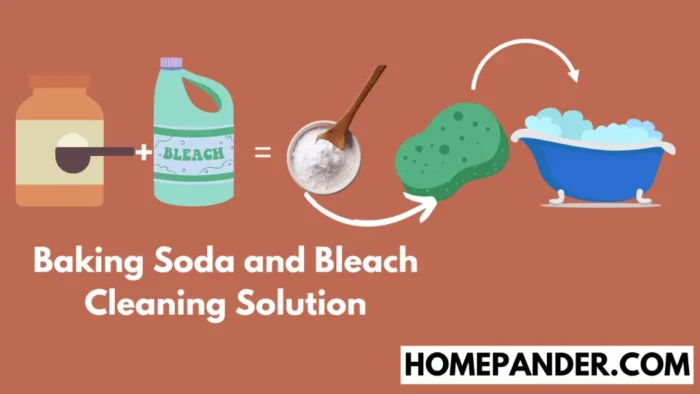 If your bathtub still has stains left, what can you do? Well, not to worry because we have solutions for that. 
You can mix baking soda and bleach to create a baking soda paste. The ratio of the mixture should be 1:1. Apply the paste in the stained area. Wait for 15 minutes for the solution to soak.
Afterward, pour water onto the paste. Use a damp sponge to remove the paste. Water will help to eliminate the paste. Move your hand in a circular motion to wipe the paste away.
Tip- If you don't want to make the paste, you can add sprinkles of baking soda to your bathtub as well. Afterward, scrub it with a sponge as per the instructions given above. 
Step 6: Dry the area using a clean and dry cloth
.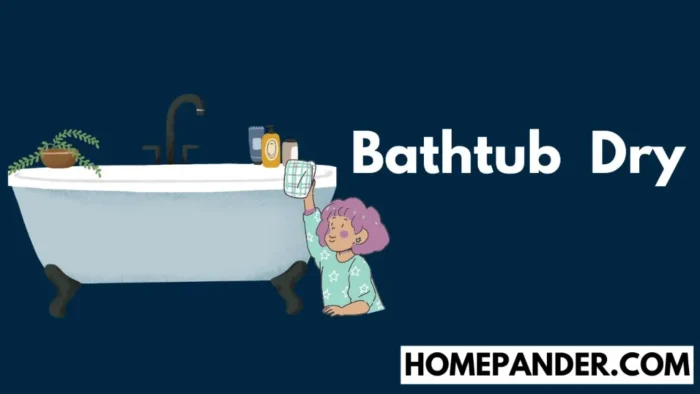 In this step, you should finish up cleaning your bathtub. Dry the surface, tap, and handles with a dry and clean cloth. You can use a towel as well. But make sure the towel is dry. 
The area will look polished after you wipe it down. 
We looked over the steps thoroughly of how you can clean your bathtub using bleach and baking soda. But don't stop yet because we have some more important things to cover.
What Safety Precautions Must You Take Before Cleaning The Bathtub With Bleach?
As you know, bleach is not safe to use. Bleach can cause a dangerous impact on your skin and eyes. You must take safety cautions before using bleach on your bathtub.
Better safe than sorry!
Here is a list of things you must consider before applying bleach to your tub.
Before everything, you must confirm whether or not the bleach is safe to use in your bathtub. If the bleach has iron, it will cause red stains on your tub. 

Additionally, if you have an acrylic bathtub, then you should not use bleach. Bleach makes the acrylic spoil.

If you're feeling confused about whether the bleach will be applicable for your tub or not, you should consult the manufacturer for information. You can also check the instructions of the bleach to see if it's harmful or not. 

Bleach has a high odor. It can be the reason for breathing problems if it's used in high amounts. Therefore, always open your bathroom door and windows while working with bleach. Also, you can turn your fan on so that the smell goes away quickly. 

Don't mix bleach with other cleaning materials. If bleach is mixed with vinegar, it can cause air pollution or toxic gas. The safe way is to mix bleach with water.

You should wipe away any other product in your tub before applying bleach. Make sure to wipe it with a dry and clean cloth. Be certain that the bathtub doesn't contain other chemicals before using bleach.

As we mentioned before, bleach can be dangerous for your eyes and skin. To be on the safe side, wear gloves while using bleach. To protect your eyes, you can use safety eye goggles. 

Bleach discolors fabric. Thus, wear old clothes while cleaning the bathtub with bleach. In this way, you can simply dismount the old cloth if it comes in contact with bleach.

You should use a clean white cloth when you are wiping down the bleach on your tub because bleach puts white stains on the fabric. It can't discolor white cloth.

If you don't want to use bleach for environmental reasons, you can use the alternatives. They are- baking soda and vinegar. 

Baking soda and vinegar also work perfectly to remove the stains from the tub. Although to remove mildew, you may have no option other than bleach.
Frequently Asked Questions
1. Can bleach damage a bathtub?
If you pour high concentrated bleach on your bathtub, it can cause damage and permanent discoloration to your tub. This is why you should always mix bleach with water in terms of cleaning the bathtub. 
Don't use bleach in the colored bathtub or tiles. You can occasionally use it if you have white bathtubs. 
2. What should you do if the drain is slow in your bathtub?
You have to use baking soda and vinegar if the drain is slow. Scatter 4 tablespoons of baking soda into the drain. Then, put 2 cups of vinegar. Once it's dried, flush the drain with hot water. The drain will be cleaned and fast afterward.
3. Does bleach lose its effectiveness over time?
The shelf life of bleach is 6 months. It starts to spoil after a year. The bleach becomes 20% inefficient as the year goes by. 
If it's mixed with water, then the mixture will be effective only for a day. Therefore, you should use the mixture of bleach and water as quickly as you can.
4. Can you use bleach on a bathtub?
Yes you can use bleach on a bathtub.
Final Words
Before we conclude, we have to say it's up to you whether you want to use bleach for your bathtub or not. If there are mildew or stains, it is suggested to wash the bathtub with bleach.
You have already seen the steps of how to use bleach to clean the bathtub. To review a little, mix the bleach with water and spray it onto your bathtub. Check if the bleach is soaked or not. You may read the instructions once more to be crystal clear.
Make sure to go over the precautions before following the steps. Your health comes first, as always. Thus, wear goggles and gloves while using bleach on how to disinfect bathtub with bleach.