Best Kitchen Degreaser [Top 10 Self-Cleaning Kitchen Degreasers]
The best kitchen degreaser is a must-have for residential and commercial kitchens. Grease, after all, can be a serious hygiene and safety hazard when left unattended.
Grease build-up happens everywhere in the kitchen, from the stovetop, kitchen walls and cabinets, and range hoods to the pots and pans. This is true even with your best efforts at wiping down oil splatters after cooking because the grease has a way of sticking to surfaces. The best kitchen degreaser is then a must-have for kitchens large and small.
Keep in mind, too, that grease build-up isn't just a matter of maintaining a clean kitchen in your eyes. There are safety risks associated with it, such as the increased risk of fire (i.e., grease is highly flammable) and injury (i.e., slipping and sliding on oil splatters on the floor). When liquid oil cools down and becomes grease, it hardens into a gel-like substance that clogs up drains, even causes overflows of the sanitary sewer.
The best kitchen degreasers are formulated to cut through grease build-up more effectively and efficiently. You can remove all that old greasy buildup in minutes with the right tools, without hours of scrubbing or gallons of water-mixed detergents!
At A Glance: Our Top Picks for Best Kitchen Degreaser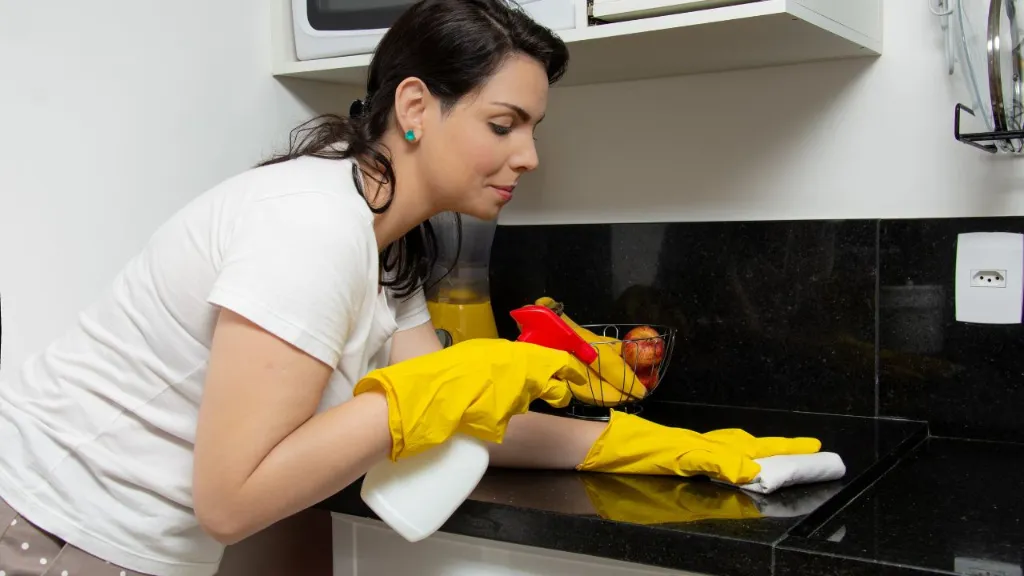 If you're in a hurry, you can jump straight into our top picks (these are the Kitchen Degreaser that most people buy).
Tips for Using Best Kitchen Degreaser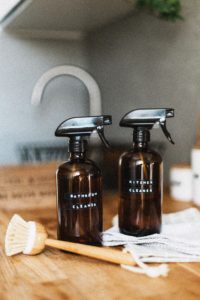 But even the best kitchen degreaser product will be of little to no use when it isn't used properly. It may even cause damage to wood, especially to stained or painted surfaces, when directly applied.
It may also cause fires when it's made from highly flammable ingredients; some kitchen degreasers aren't recommended for use near naked flames and heat sources for this reason.
Always test a new degreaser on a small inconspicuous area, such as a hidden corner of a stovetop, first before using it on the entire surface. This way, you can determine whether the degreaser actually works in removing grease, not the finish, of the home appliance.
There are also key steps in using a degreaser to maximize its results.
Blot grease stains and splatters off kitchen surfaces as soon as these happen; it will prevent a stubborn grease build-up. Use a paper towel.
Wipe these with a damp, clean dishcloth to soften the grease.
Wipe the affected kitchen surfaces with a damp, clean sponge to wipe more residual stains and splatters.
Follow the instructions on the degreaser, such as spraying it and letting it sit on the area for cleaning for 5 minutes, wiping it down with a clean cloth, and rinsing the surface with warm water before air drying.
Read the product label, too, which has information about the types of surfaces on which it can be directly applied, the instructions for effective use, and the safety precautions (i.e., keep away from the open flame).
Top 10 Best Kitchen Wall Degreasers 2022: Reviews and Buyer's Guide
#1. LA's Totally Awesome Cleaner Reviews: All-Purpose Concentrated Cleaner
LA's Totally Awesome Cleaner | Click Image To Check It On Amazon
This is an all-purpose cleaner that can be used on a wide range of surfaces including wood, glass, and metal. As a concentrated cleaner, it is just as effective in removing grease and oil as it is in getting rid of stains caused by wine, coffee, juice, ink, hair dye, and fresh paint. It can also be used as a spot remover for spills on carpets, upholstery, and even vinyl siding.
Keep the LA's Totally Awesome cleaner handy and your life can be easier since it can easily and quickly remove most types of spills and stains. You can use it on your kitchen appliances, such as the stovetop and oven, as well as on the backsplash, cabinets, and counters to remove dirt, grime, and grease.
Plus, it doesn't contain any acid, bleach, and ammonia, which can damage many types of surfaces. It also doesn't contain phosphorous, which has adverse effects on human health from prolonged exposure.
Pros:
Effective for many types of surfaces and stains
All-purpose use including degreaser, cleaner and spot remover
Safe to use even with children and pets in the house
Comes in an economical 64-ounce jug
Smells nice
Cons:
May not be as effective as expected on tough build-up of grime and grease unless hard scrubbing is applied
#2. Krudkutter Kitchen Degreaser Reviews -Krudkutter 305373-Best All-Purpose Cleaner
Krudkutter Kitchen Degreaser | Click Image To Check It On Amazon
The Krudkutter is arguably the best degreaser for a kitchen stove because it can quickly soften the cooking grease spatter and stains on metal surfaces. Just spray it on the dirty, oily surface of your kitchen stove and oven, wait for a minute or two, and wipe it off with a clean, dry cloth and voila! Your kitchen appliances will be clean as a whistle again.
You can also use it for other cleaning purposes around your home. You can spray it on the grease-filled pots and pans so that the grease can be easily removed with a scrub. You don't have to worry about leaving possibly harmful residues since Krudkutter has the best non toxic degreaser ingredients.
Many also say that they have used the Krudkutter for cleaning their metal benches, glass tabletops, and tiles in the bathrooms and kitchens. Such versatility makes it a cost-efficient choice, too, since you don't have to buy one too many cleaning products for your home.
Pros:
Made with non-toxic ingredients
Can be used for a wide range of surfaces and stains
Fragrance-free so it's safe to use around people with respiratory issues
Cons:
Not suitable for use on varnished surfaces (e.g., wood)
#3. Goo Gone Kitchen Degreaser Reviews – Best Spray Foam Kitchen Degreaser
The Goo Gone is widely considered as the best commercial kitchen degreaser because of its extra-strength formulation. When applied on a suitable surface, such as a metal stovetop or a tiled counter, its powerful degreasing formula makes quick work of the build-up of grease and grime. Left on the surface for a minute or so, it breaks down the grease and grime so you don't need to scrub too hard.
It has a biodegradable formula, too, which prevents discoloration of the cleaned surfaces. You can actually use it on glass and wood, as well as on metal, surfaces due to such an eco-friendly formulation.
You don't have to worry about adverse health effects, too, when it's used properly although it obviously shouldn't be used without proper safety measures. Keep in mind that it's a commercial-grade degreaser so wearing gloves when using it is a must.
The Good Gone comes in an easy-to-use spray bottle. It doesn't leave any residue when it's thoroughly wiped off the surface.
Pros:
The concentrated formula works fast in breaking down the buildup of grime and grease
Safe to use on a wide range of surfaces including wood, ceramics, porcelain and glass
Biodegradable formula
Safe for use in food preparation areas and in food containers
Fresh Scent.
Cons:
Slightly more expensive than other regular-strength degreasers
#4. Weiman Gas Range Cleaner And Degreaser- Best Stove Degreaser
The Weiman Gas Range Cleaner and Degreaser is the best kitchen degreaser cleaner because it doesn't act like an all-purpose cleaner. Instead, it's best used to achieve squeaky-clean results when cleaning stovetop and oven surfaces. Just spray it on the greasy, oily and dirty surfaces, wait for a few seconds, and wipe it off to reveal the shiny surface underneath.
The more times you use the Weiman cleaner on your kitchen's metal surfaces, the shinier these can be. You may even notice that previously dull surfaces seem to have acquired a new luster. You can also use it to remove the streak marks left by oil, grease and food stains that were left by other less effective degreasers or cleaners.
But The Weiman cleaner isn't limited in its use to metal surfaces either. When diluted with water, it can also be used for cleaning and degreasing fabrics, ceramics, and glass. But it can require guesswork at first about the right amount of water to mix with the original formula.
Pros:
The strong formula suitable for tough grease buildup
The Spray-on bottle is easy to use and refill.
All-purpose cleaner.
Maintains luster of ceramics, metal, and even wood when used regularly.
Cons:
Dilution with water can be an issue
#5. Goo Gone Kitchen Degreaser Reviews –Best Degreaser for Range Hood
This Good Gone kitchen degreaser is part of a family, so to speak, of degreasers and cleaners. But it stands out as the best grease cleaner because it can remove even the toughest grime, gunk and grease within a few applications.
When it's applied on a surface, it becomes a foam that quickly works on breaking down these unsightly buildups within a minute or two. Afterward, wipe it off with a clean, dry cloth and watch as the underlying beauty emerges. You may have to apply more of the Goo Gone degreaser in case of thicker buildups but with regular and proper use, your kitchen may well become spotless.
As a one-step, all-purpose cleaner, it can also be used on several types of surfaces including sealed stone, plastic, glass, and porcelain. You can then use it not only on stoves and ovens but also on tiled counters, range goods, and the best degreaser for pots and pans. But the manufacturer doesn't recommend its use on aluminum surfaces as well as on painted and varnished surfaces, such as wood.
Pros:
The powerful formulation makes it effective against stubborn grease, grime, and gunk
Affordable price
Retains shine on surfaces
Suitable for many types of materials
Cons:
Cannot be used on certain metal surfaces and on wood
#6. Grab Green Reviews Of Degreaser Cleaner – Best Natural Degreaser
Yet another of the best kitchen grease cleaner is the Grab Green, a natural degreaser made with naturally-derived ingredients.  Like LA's Totally Awesome degreaser, it also doesn't contain any harmful substances like formaldehyde, ammonia, and phosphates. These chemicals can cause a wide range of health effects from palpitations to dizziness, nausea, and fatigue.
You can then use it in your home even with children and pets present. You must, however, still adopt safety measures such as wearing gloves, opening the windows for proper ventilation, and storing the degreaser away from the reach of children and pets.
The Grab Green degreaser is also not tested on animals, a desirable feature for animal lovers lobbying against the use of animals like rabbits for testing consumer products. This also comes in an easy-to-use spray bottle that makes it convenient to use even on tight spaces like the corners of stovetops and inside ovens.
This is also suitable for use on metal surfaces (cooktop hoods, stovetops, and microwaves) as well as on cabinets, backsplashes, and stone including granite.
Pros:
Non-toxic yet effective formula
Non-corrosive so suitable for use on a wide range of surfaces
Eco-friendly and pet-friendly
Has a sweet fragrance from sage and thyme.
Cons:
Longer waiting time before the degreaser does its work (i.e., after spraying it on)
#7. Purple Power Cleaner Reviews- Purple Power
The Purple Power is also considered as the best kitchen degreaser because of its concentrated formula that quickly penetrates and breaks up grease, oil, and gunk upon contact. You obviously cannot see how it works in grease removal but it creates a barrier between the stained surface and the grease – thinks of it as lifting the latter from the former even without scrubbing.
The concentrated formula is best used on kitchen surfaces, such as stovetops, ovens, and cabinets and counters. But it's an all-purpose cleaner, too, so it's also suitable for use on surfaces like automobiles for the best engine degreaser, farm equipment, and shop machinery. The non-abrasive, non-flammable formulation is also a reason for its versatile commercial and residential uses.
But it cannot be used on certain surfaces including the best degreaser for cars exterior surfaces, painted surfaces, glass, and wheel rims despite its versatile applications. It should also be used with proper safety measures including sufficient ventilation, wearing of rubber gloves and goggles, and testing on the out-of-site area.
This is an eco-friendly degreaser, too, thanks to its biodegradable ingredients. There are no harmful chemicals in it, such as phosphates, as well.
Pros:
Biodegradable concentrated formula
Effective on most surfaces in and out of the home
Affordable price
Cleans even engine grease and water stains in the bathroom.
Cons:
A strong smell can be left after wiping off
#8. Scrubbing Bubbles Max Grease Cleaner Review
Scrubbing Bubbles is a popular brand manufactured by S.C. Johnson & Son,- a leading manufacturer of household products. The Scrubbing Bubbles Max Grease Cleaner is formulated to effectively remove tough grease and gunk buildup on kitchen surfaces including metal stovetops and tile countertops.
It can also be used for other types of home appliances although following the instructions is a must for best results.  You may also use it on marble, granite and fiberglass surfaces.
You will appreciate its subtle citrus scent, a great feature when you're not a fan of strong fragrances in household products. There's also little to no traces of smears, stains and other marks on the surface after the foam is wiped down.
It's also easy to use. Just press the trigger to its "on" position and spray about 6 to 8 inches from the surface being cleaned. Wait for a few seconds and wipe with a paper towel to reveal a cleaner surface.
It doesn't contain parabens and aluminum, which can damage surfaces. According to its product label, it contains water among others.
Pros:
Effective on most surfaces in the home from metal to stone
Nice citrus scent
Easy to use
Comes from a reliable manufacturer.
Cons:
May not work on heavy or thick gunk
#9. Jaws Degreaser Cleaner Review
The Jaws cleaner is a cost-effective system because each bottle comes with two refill pods. You will then get two bottles of an effective degreaser and cleaner for your home.
Jaws, by the way, is an acronym for Just Add Water System since it's only necessary to mix a concentrated pod with water in the reusable spray bottle. This extra step may seem inconvenient at first but when you see the super-effective degreasing results, it's a worthwhile step.
Plus, your carbon footprint can be reduced since you only need to buy refill pods and reuse the spray bottle for future uses. You will also save on financial costs since the refill pods are less expensive to buy than an entire kit.
This is an effective degreaser on a wide range of surfaces, too. You can use it on stainless steel appliances and accessories, as well as on tile, marble, and granite kitchen countertops, sinks, and bathrooms. You won't see streaks on the surfaces, too, although using a dry, clean cloth is a must for wiping them down.
Pros:
Economical price
Versatile uses in many parts of the home
Tough on grease, gunk, and grime on most surfaces
Reusable and refillable design
Cons:
The extra step of adding water to a pod.
#10. Siege Kitchen Degreaser Review
The Siege degreaser is our best kitchen cabinet degreaser because it can actually be used on wooden kitchen cabinets! This isn't possible with many of the degreasers here due to their powerful formulas that can eat away at the paint or stain.  You can obviously use it, too, for tackling grease and gunk on your kitchen appliances and countertops, a sign of a truly versatile degreaser and cleaner.
Every bottle of a Siege degreaser also goes a long way since you only need to spray on a small amount for it to work well. You can save money on it even with frequent use.
Yet another reason to love it is its nearly odorless quality. When you spray it on a surface, it has a subtle smell to it that doesn't offend the nose. Afterward, it doesn't leave a strong smell so there's little need for opening the windows for ventilation purposes.
Pros:
Used in many commercial kitchens
Works as a degreaser and cleaner for a wide range of surfaces
Nearly odorless
Long-time use
Cons:
Slightly more expensive
It May not work well on certain surfaces and grime
Buyer's Guide for the Best Kitchen Degreaser
Choosing the best degreaser for kitchen appliances can be a challenging task because of the sheer number of choices. By asking these questions, however, you can narrow down your choices and make a suitable choice for your needs.
What's your preferred level of strength?
Commercial degreasers usually have stronger formulations than residential degreasers – commercial kitchens, after all, will have more stubborn grease build-up due to their more frequent and heavier use. But if the grease build-up in your home kitchen has become unmanageable, then a commercial degreaser may be necessary. You can use a residential degreaser for everyday cleaning.
Keep in mind, too, that the stronger the strength of a kitchen degreaser, the stronger its effect will be on your skin and nose. A high-strength degreaser may cut through years of grease build-up but it can be unpleasant to use. You have to take more safety measures, such as wearing safety goggles, gloves and face mask, as well.
For most home appliances, a regular strength degreaser works well. Just be sure to follow the instructions for best results.
What types of surfaces will you be using the degreaser on?
Degreasers come in a wide range of formulations suitable for several types of surfaces from wood and glass to metal (e.g., stainless steel) and tiles. Many of these products can be used for several types of surfaces but not on all types so it's important to read the labels.
Differentiation between an all-purpose degreaser and an all-surface degreaser should also be made for safety purposes. An all-surface degreaser can be used for most, if not all, types of surfaces because of its relatively mild formulation. An all-purpose cleaner can be used for cleaning up dirt, dust and grime as well as grease from specific types of surfaces (e.g., glass and metal only but not wood).
You may have to buy at least two types of kitchen degreasers for your home appliances for this reason.
What's your take on its environmental impact?
Store-bought kitchen degreasers usually have a combination of natural and synthetic ingredients. No matter their source, these ingredients will have an environmental impact, from scenting the air to contributing to land and soil pollution. Of course, you will want a kitchen degreaser with as little adverse environmental impact as possible.
In this case, you may consider choosing an organic kitchen degreaser since these are mostly made from naturally sourced ingredients. But consider, too, that these may be less effective in removing tough grease build-up so harder scrubbing will probably be necessary.
In contrast, regular and extra-strength kitchen degreasers are more effective at removing stubborn grease build-up than their organic counterparts. But these will likely have a negative environmental impact since the chemicals used in them have been chosen for their effectiveness in grease removal and nearly nothing else, while still complying with government-mandated safety regulations.
For many homeowners, the sweet spot may well be the eco-friendly kitchen degreasers. These are made with a balance between synthetic cleaning chemicals and naturally-derived ingredients, a combination that results in effective cleaning power and less negative environmental impact.
What's your preferred method of application?
Most kitchen degreasers have to be sprayed on the area being treated and left to sit for a few minutes before rinsing and wiping off.  This is a fast, easy and convenient method so it's popular among homeowners and professional maids.
Most of these products also come in their own spray bottles so there's no need to pour the liquid formula from one container to the other. If you're an eco-conscious consumer, you may want to consider a refillable spray-on kitchen degreaser. You can buy a large bottle of your preferred degreaser and pour the right amount into an old spray bottle, thus, using less plastic.
You should also consider the scent of the kitchen degreaser since it can affect your quality of life for a day or so. You don't want your kitchen smelling like a chemical factory the entire day after cleaning its appliances. You may not even be able to completely get rid of the unpleasant smell even after using a diffuser, lighting a scented candle, and opening all the windows and doors in the room.
Fortunately, there are several brands of kitchen degreasers that leave a pleasant smell after application. These products usually have citrusy scents, such as lemons and oranges, although there are also other scents like lemongrass. Think about it: These scented degreasers will not only make your kitchen look and feel clean but also make it smell clean!
We also suggest reading the product labels of whatever kitchen degreasers you're considering. Take a look at the ingredients and decide for yourself whether you want them to be in your home, possibly inhaled by your children and pets.
Read the kitchen degreaser reviews, too, since you will find helpful information about the ease of use, safety and efficacy, and after-smell, among other matters, of these products. In the following section, we will take a look at the top 10 kitchen degreasers we have found in the market.
Conclusion
Grease may be a reality of life in the kitchen, but it doesn't have to be. You can use an effective degreaser that suits your needs so that you never have to worry about grease buildup on metal surfaces again.
The best kitchen degreaser products will clean and de-grease without leaving behind any residue or build up – this way, even if you don't get around to cleaning every day (or sometimes twice per day), no one has anything nasty waiting for them when they finally do decide sweep through their cleanup routine for the best household degreaser!