Can A Bathtub Be Reglazed? ( Your Burning Question Answered)
Everyone loves to enjoy a relaxing bubble bath in a clean & comfy tub. However, a minor bathtub crack or rust may convert that soothing bath into a nasty & horrible experience. That's why; every house owner should be highly concerned about bathtub renovations. 
When we pronounce renovation, we basically refer to Reglazing or Refinishing instead of Replacing. But, Can A Bathtub Be Reglazed? How to Reglaze a bathtub? Is reglazing worth your time & money?
Well, yeah, it's possible to reglaze a bathtub that is in good shape. By reglazing, you can sort minor imperfections, including cracks, scratches & stains. So, investing in reglazing the bathtub is worthy indeed. Just hire a professional who will sand down the tub & repair the imperfections to bring back the appealing vibe.
In our content, we have discussed a step-by-step procedure of reglazing the tub, DIY tricks, along with other essential guidelines & FAQs. So, stay with us till the end & be ready to enjoy a shower in your newly reglazed bathtub right away!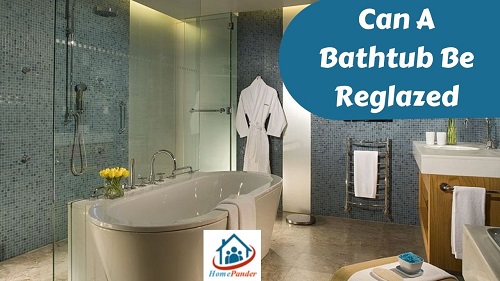 How Does The Professionals Reglaze The Bathtub?
Before discussing the basic tricks & guidelines on reglazing, I would like you to focus on professional reglazing as it is pretty worthy of investment. 
Why would you go through the hassle of DIY reglazing when the professional service will cost around $350 to $650? By professional reglazing, a customer can achieve the most desirable colors and finish of the tub. 
Professional reglazing involves three steps which include:
Step 1: 
The technician focuses on removing the old finish by sanding the tub thoroughly.
Step 2: 
Once the external surface becomes smooth, be ready to repair the cracks, rust, holes & other damaged areas.
Step 3: 
Lastly, the contractor will apply a layer of primer, multi-coats & sealant to ensure a long-lasting & durable finish. 
If the bathtub is in good shape, an effective professional reglazing can enhance its longevity up to 15 years. 
Bathtub Reglazing DIY: How To Reglaze A Bathtub At Home?
Can a bathtub be reglazed at home? Actually, we would specifically suggest professional reglazing as the DIY procedure is relatively less reliable & smooth. Still, if you want to reglaze the bathtub at home, you will require a bathtub reglazing kit. 
DIY kits are available at $24 to $30 in any reputed home improvement store like home depot. In this context, customers must be aware that DIY reglazing kits don't show the same composition as the professional kits. 
Once you are determined, specify an adequately ventilated area for reglazing. Be very careful to wear protective gloves & goggles before following the steps!
Step 1: 
Look for damaged and cracked areas in the tub.

Choose an effective patching compound to cure the cracks.

Wait for several hours to let the solution remediate the scars completely. 
Step 2: 
Detach all the metal accessories & hardware like faucets & metal drains.
Step 3: 
Now it's time to bleach the tub with an effective abrasive cleaner. A $1+ cleaning solution from Amazon will do the job for you.

After scouring & bleaching, rinse the bathtub thoroughly with water.
Step 4: 
Get rid of the caulking materials and wipe the surface carefully.

Now sand the tub to roughen the surface as rough surfaces are specifically suitable for coating.

Carefully rinse the tub to eliminate the dust.
Step 5: 
Once you are done with rinsing, wipe the tub to let it dry. 

After drying the tub thoroughly, wipe it with a dry cloth to eliminate dust residues.

Carefully tape off the surrounding area and hardware with a drop cloth.
Step 6: 
After ensuring proper ventilation, it's time to paint the tub thoroughly.

Paint every corner and hardly reachable areas with a small brush.

High-quality paints are available at $6 in any home depot.
Step 7: 
Apply additional coats for improved finishing & durability.

Maintain a prolonged interval to ensure enough drying time. 
Step 8: 
After coating, reattach the additional hardware & caulk surrounding the tub.
Reglazing Bathtub Pros & Cons:
Many customers out there are confused between reglazing and replacing the tub. Is Replacing better than reglazing? Which one will suit my bathtub the most? 
I bet these queries have already puzzled you. However, I'm certain that our detailed discussion on the basic advantages & disadvantages of reglazing will ultimately sort your confusion.
Advantages: 
It's the most affordable solution. Averagely, reglazing the bathtub will cost around $200 to $650.

Reglazing is certainly the quickest renovation method which consumes around one day.
Disadvantages: 
Professional reglazing materials like urethane are quite toxic. Customers must leave their place while reglazing. The place should also have proper ventilation.

You can reglaze a bathtub only once. If the reglazed tub is peeling, you must look for other options.

Weather can hugely affect the reglazing process. The highly humid weather of summer is not suitable for the coat to dry up entirely. So, it's better to reglaze the tub in non-humid winter or spring.
How Much Does It Cost To Reglaze A Bathtub?
At first, the thought of Replacing may seem more tempting than reglazing. Everyone loves to enjoy the bubbly bath in a brand new tub. However, replacing is not that convenient the way it sounds. 
In order to place a new model, contractors have to trim the previous one to ensure better access out of the bathroom. So, purchasing a new tub will cost only $150, where a wholesome replacement labour cost can be more than $1500.  
On the contrary, reglazing is more affordable and hassle-free. You have to invest around $300-$600, and your old cracked bathtub will seem like a new one. Even if it is badly stained, rusted or cracked, an experienced contractor can sort your issues by fixing & recoating thoroughly.  
Is It Always Worthy To Reglaze The Bathtub?
We would highly recommend reglazing & refinishing for high-quality, durable tubs. The precondition of reglazing is – the bathtub must be in good shape. 
Well, reglazing is not always the best option out there. Reglazing a low-quality tub of modern-day might not be a good idea. If you want a tub with upgraded features, it is best to demolish & replace it instead of refinishing it.  
Check our latest guide about: How To Clean Non-Slip Bathtub Strip It: Here's How
Also, read the related guide: How to Clean Bathtub Funk- Problem Solved!
FAQ -Can A Bathtub Be Reglazed
What is used for reglazing a bathtub? 
In order to reglaze a bathtub, acrylic, urethane & polyurethane are the most preferred materials.  A DIY reglazing kit is composed of paint & epoxies instead.  
However, these paints and epoxies are not as effective & durable as the professional reglazing materials. 
Can an old bathtub be reglazed? 
Yes, why not? As long as the bathtub is in good shape, it's ok to reglaze it to get rid of stains & scratches. It is even possible to reglaze acrylic bathtubs as long as it is durable & stable.
What is the Difference Between Refinishing & Reglazing?
We often come across the terms 'reglazing' & 'refinishing,' and both of them seem quite similar. However, they have some minor differences. By Refinishing, we indicate the whole procedure of restoring the bathtub, where reglazing means applying a commercial coating to the tub.
Final Verdict
Can A Bathtub Be Reglazed? How much will the cost be? Is reglazing really worth it? 
I bet these queries were too puzzling when you were focused on the renovation of the washroom. In our content, we held a detailed discussion on reglazing, its procedure, along with its cost. So, will you reglaze your bathtub, or do you plan to replace it instead?