Can You Use Lysol On Wood? What To Expect
Both at home and office, as a disinfectant cleaner, Lysol is always one of the tops. But, can you use Lysol on wood, mainly wooden floors, and furniture?
The use of Lysol on wood depends on its usage rules. If you don't follow the rules, it may cause damage and turn the surface smelly. Moreover, you need to know which kind of wooden surfaces are suitable for applying Lysol disinfectant cleaner.
This article will let you know whether you should apply Lysol to clean your wooden furniture and wipe the floors or not. Besides, it will give you an absolute guideline of its use on wood.
Can You Use Lysol On Wood?

Yes, you can use Lysol on the non-porous and polished wooden surface. Because such surfaces are fully sealed and don't soak the moisture. So you can use it to clean your wooden floor and furniture like cabinets, tables, shelves, chairs, and others.
In addition, Lysol has its wipes, spray, and liquid cleaner. You have to know which one is good for which wooden surface. 
Lysol Wipes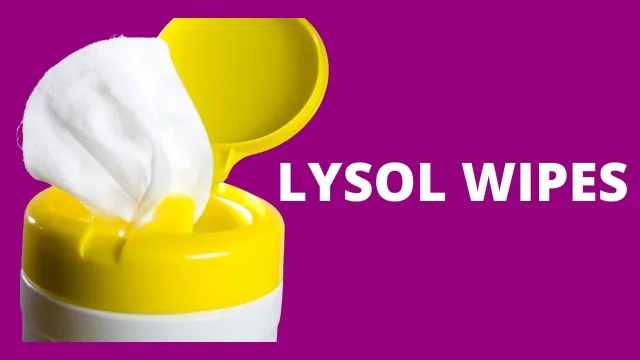 Lysol Wipes are used for both sanitizing and disinfecting different things. This wet pad works well on the wooden furniture, door handles, showpieces, and floor as a soft cleaner. Moreover, it is better to change the tricot after one wipe.
How to use Lysol Disinfecting Wipes?
Clean the surface first with a dry cloth or pad.
Use as many wipes you need to wet the surface.
Now, wait for 4 minutes to disinfect properly and let air dry. 
In addition, to clean the surfaces which come in contact with food, use the wipes with water.
Lysol Spray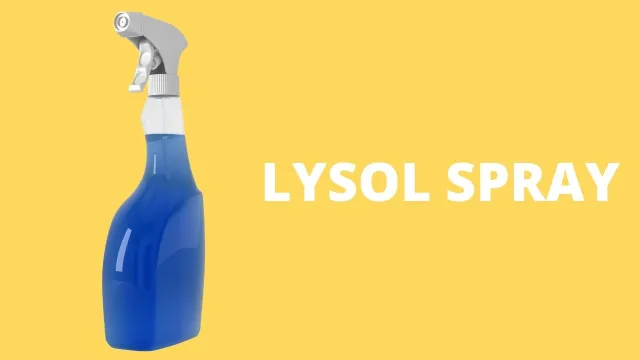 Lysol Disinfectant Spray
This spray is best if you want to kill viruses and bacteria from your floor and other surfaces. You may use it daily to make your things germs-free.
How to use Lysol Disinfectant Spray?
Clean the surface with a dry cloth
Hold the spray can straight 6-8 inches from the surface
Now spray for 3-4 seconds until covered with haze
Keep the surface wet for 3 minutes 
Finally, let it air dry
Lysol All-Purpose Cleaner
This spray is great to remove stains and dirt from the wooden floor and furniture. For example: to remove stains of tea and coffee from the table and bottom, this cleaning spray performs very well.
How to use Lysol All-Purpose Cleaner?
Pre-clean with a dry pad
Now spray and let the whole surface wet
Wait for 2-3 minutes
Wipe with a dry, clean cloth or sponge
Lysol Liquid Disinfectant Cleaner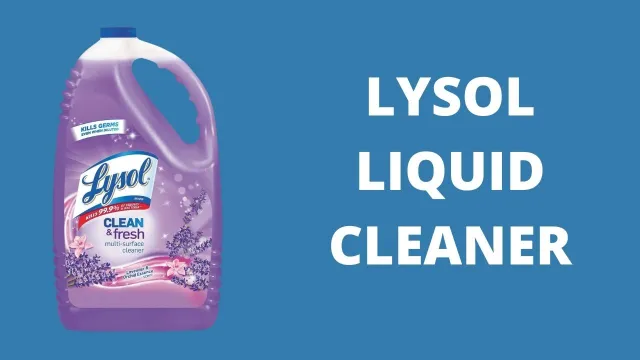 From Lysol, its liquid disinfectant clean is the best for deep cleaning. You can use it directly or mix it with water and apply it to your polished wooden stuff. In this regard, you may choose Lysol Multi-Surface Cleaner. 
How to use Lysol Multi-Surface Cleaner?
Apply the liquid to the area directly or make a mixture of ⅕ of cleaner with ⅘ warm water.
Wait for 6 minutes and wipe with a clean cloth.
In addition, to clean soap stains and greasy soil from the wooden floor, it will be better to use the liquid directly and then rinse the surface after 6-7 minutes.
Remember, always use the Lysol products regarding the label instructions to get the best outcome. There you'll get all the information about using them and 
Note: if you use Lysol on natural and non-polished wood surfaces, it may cause damage.
Things To Do Before And After Using Lysol On Wood

Whichever Lysol cleaner you use, you have to do something before and after applying it. These tasks are so crucial for both the surface and you. So follow the steps-
Check the area
Before you start, check all the wooden floors and other stuff. Ensure all the surfaces are processed and non-porous. Besides, if you find any muddy dirt anywhere, pre-clean the surface.
Wear Gloves
To avoid skin irritation, you should wear cleaning gloves before cleaning. However, Lysol is not toxic to the skin. But for your concern, if you have any skin issues, better you wear gloves. 
Wear Mask
Lysol cleaners have a strong smell (Here you can make an internal link on lysol smell last) that can irritate you. Moreover, its hard odor may cause headaches and breathing issues. So wear a dust mask before you go with cleaning. However, you can remove the Lysol smell afterward. But wearing a mask may be a relief. 
Wear Face Shield Or Eye Shield 
Direct contact with Lysol may cause eye irritation for you. You will get both a face shield and an eye shield from the market. Choose the best which suits you.  
Turn On Exhaust Fan
Turning on the exhaust fan easily removes the Lysol smell from the room. If you don't have any, install one. Moreover, it will be best if you keep the door and windows open while cleaning.
Wash Hands
After using the Lysol leave the gloves and simply wash your hand with soft water. But if you don't use gloves, wash your hands with soap or hand-wash properly. 
FAQs
Can I use Lysol All Purpose Cleaner and Disinfectant spray both simultaneously?
Yes, you can. To use both simultaneously, clean the surface with Lysol All Purpose Cleaner and then apply the Lysol Disinfectant Spray to kill germs from the surface. 
Should I use Lysol Multi-Purpose Cleaner With Bleach on wood?
Yes, you can use a soft solution of Lysol Multi-Purpose Cleaner With Bleach and water on the polished wood. Try to avoid the direct application of this bleach item on the non-porous timber surface. Otherwise, it may cause discoloration of the area. So mix it well with water and then use it.
How to clean unpolished wood?
To clean unpolished wooden surfaces like raw wooden floors, you can use Murphy's Oil Soap, Mineral Spirits, White Vinegar. Moreover, a mixture of natural dish soap and soft-warm water performs well on bare wood.
Conclusion
Wooden furniture and floors are more expensive than other stuff for home decor and comfort. So for cleaning such things you always should choose the proper cleaner. In this regard, you can use Lysol on wood following the guidelines. 
We provide all the information you need to know before using Lysol on wood. So, go clean and make things shiny.