How To Clean Bathroom Tiles With Harpic? [5 Steps For Hassle-free Cleaning]
Among hundreds of cleaners, Harpic is a household name. But not knowing how to use it might cause more damage than good. Because it can ruin your tiles' glaze.
But you don't have to be stressed as we've come here to your rescue!
How to clean bathroom tiles with harpic?
Cleaning with harpic is as easy as pie. Take out your safety gear and get ready. Choose the right brushes or mops and move to the next steps. This will include- slathering the product, waiting, and washing off the remaining product. And the result is going to be a perfectly cleaned floor!
This information is just a trailer of what's to come. We have a detailed guide awaiting you. So without further ado, let's get started!
How To Clean Bathroom Tiles With Harpic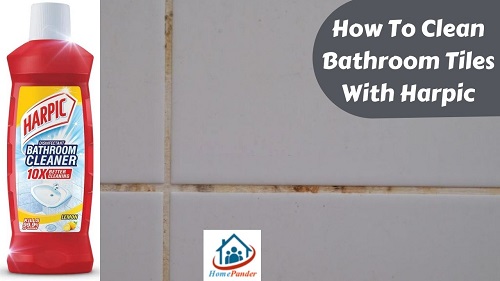 Why Should You Use Harpic?
Before knowing how to clean tiles with harpic, it's crucial to know more about it. You need to be aware of how it helps solve a few of your cleaning hassles.
Aids Hygiene And Fragrance
Harpic can remove dirt, grease, and dirt spots with ease. Moreover, it removes bad odor from your bathroom and adds a pleasant fragrance.  Most importantly, it is safe to use on most bathroom surfaces.
It Kills Bacteria And Mould
Harpic cleaner has hydrochloric acid and other bacteria-killing ingredients. It kills 99.9% of disease-causing microorganisms as well as the mould on your bathroom tiles.
As we know why we should use harpic, let's embark on our cleaning journey!
Step-by-Step Guide For The Cleanest Bathroom Ever
Learning how to clean bathroom tiles with red harpic is important. So, for your ease of understanding, we've broken the process into 5 easy steps. We hope you'll find the given steps helpful-
Necessary Equipment
Every task requires some accessible tools. So, here are some tools we'll be needing-
500ml bottle of Harpic

Safety gloves

Mop or toilet brush

Plastic bucket

Plastic bathroom mug
Now that we have everything that we need, let's get to work.
Step 1: Prepare For The Process
Before cleaning your bathroom tiles with harpic, you will have to prepare yourself. Harpic is known to have hydrochloric acid as an active ingredient. So, direct contact of the product with your skin can cause irritation. 
We suggest you wear safety gloves before getting to work.
Speaking of safety gloves, here are some great products for you to choose from:
Step 2: Dilute Harpic With Water
Harpic has properties similar to detergents; it's thick, concentrated, and a bit rough. So to maintain the glaze of your tiles, it's better to dilute the product. 
For diluting harpic cleaner, get a plastic bucket with 4 liters of water. Then take 1 ½ or 2 capfuls of harpic and pour it into the water. Stir the mixture and grab your mop and brush to start cleaning.
Step 3: Apply The Cleaner And Wait
Now, take your bathroom mug and pour the diluted harpic into various parts of your bathroom.
Then set your timer to 15 minutes and wait. This will loosen up the grease and dirt in your bathroom. It will make cleaning badly stained grouts and tiles much easier. 
Many might suggest waiting for an hour. But if there are no stubborn stains, waiting for 15 minutes is enough.
Step 4: Start Cleaning The Tiles
After 15 minutes, start scrubbing the tiles of your bathroom. Scrubbing uniformly will help you remove dirt and dark spots altogether.
Step 5: Wash Off With Water
Once you're done scrubbing the tiles, wash the floors with water. Washing off the harpic mixture is important as any remaining product might cause skin irritation. You might even slip on the floors and get injured.
And there you have it. This is how to clean bathroom tiles with harpic bathroom cleaner in 5 doable steps. Hope you'll be able to follow through on your desired results!
Special Tips On How to Clean Toilet Tiles With Harpic
We're sure you can achieve your desired goal through our guide. But to ensure further hassle-free cleaning, here are some tips-
Use Undiluted Product
Sometimes your bathroom may have stubborn stains that the diluted product can't get rid of. In such cases, use some diluted product on the stain and wait a while. Then just scrub the area to get rid of the pesky stain!
Seal The Grout
Grout is a porous material. It is prone to stains, mold, and grime. To avoid all of that, you can seal your tile grout after cleaning. We suggest you seal your grout twice a year. If that isn't possible, opt for sealing annually. 
Maintain Your Bathroom
Tiled bathrooms can get grimy in particular spots a couple of days after cleaning. The grime can build up over time and get too stubborn to remove. To avoid such a setback, keep a microfibre cloth in your bathroom. And whenever you see grime building up, you can clean it up in a jiffy! This will make your weekly or fortnightly cleaning much easier.
Now you know how to clean and maintain your bathroom tiles! We're certain you'll follow through to attain a germ-free and fresh bathroom.
FAQs
Question: What will happen if Harpic is ingested?
Answer: Harpic contains hydrochloric acid as an active ingredient. So, ingesting Harpic can affect your esophagus, stomach, and intestines through gangrene and perforation.
Question: Will the pigment from Harpic stain my bathroom?
Answer: No, it will not stain your bathroom. In fact, it will help to give your bathroom tiles a brighter look.
Question: Can I use Harpic on my aluminum sink?
Answer: No, you cannot use it on aluminum sinks. Harpic is strictly manufactured for floors, tiles, and ceramic basins. So, we advise you not to use it on your aluminum sink.
Conclusion
Congratulations! Now you know how to clean bathroom tiles with harpic. We hope our steps and tips have made the process easier for you. Do try it out yourself and send us some feedback!
Have a safe experience cleaning your bathroom tiles. See you next time! Happy cleaning!