How To Keep Shower Tile Clean? – Follow The Right Way
Dirty shower tiles can be dangerous. At some point, they can even be life-threatening. 
Yeah, that's right. You're one deadly slip away from a visit to the orthopedic. And if luck's not on your side, then things might get even worse. 
That's why it's crucial that you keep your bathroom tile clean. But there's a catch-
With hundreds of methods out there, it gets super confusing.
So, how to keep shower tile clean?  or you can read for plastic shower cleaner.
Well, we've added a daily routine as well as weekly and monthly cleaning schedules. However, the effectiveness and efficiency of cleaning depend on the cleaning agents. So, choose the best cleaner for your shower. Tables of considering factors for this are also provided. 
Now that you've got the gist of the whole thing let's move on-
Let's Learn about Some Cleaners for Shower Tiles
What's the first thing that comes into your mind when someone mentions cleaning? Obviously the cleaner, right? The cleaner is definitely the most important element for cleaning. 
Here, we've talked about some of the best grout and tile cleaners, and their effectiveness. We can even use some normal household products for this which are available and cheap. This table containing DIY cleansers will come in handy for sure. 
Household Product's Name

How To Use

Required Time

Effectiveness 

Safety Measures 

Salt

Just put in on your dirty spot. Scrub it off with a damped cloth.

Let it be there overnight after scrubbing before rinsing it off. 

It works great on light spots. It prevents bacteria and molds 

Salts are obviously safe. Don't worry. 

Vinegar

Put 1 part vinegar with one part water, then spray it using a spray bottle

15 minutes for mildly dirty shower tile and grout, but 30 minutes for a massively dirty one 

It works like magic on dirty tiles and stained grout. Works fine on soap scums. 

Vinegar is a bit acidic but not harmful. So extra safety measures aren't required.

Baking soda

Put 1 equal amount of baking soda into water and make a thick consistent paste. 

Rub the paste on the grout and tiles and cover them with it. Rub it for 5-10 minutes until the dirt comes off. 

It cleans the grout and keeps the odor away. 

Baking soda is very safe so safety measures aren't needed. 

Vinegar+ Baking Soda (when you're running low on one or both of them)

Dilute the vinegar just like before and add the soda to it. Wait until the bubbles subside. Then use them using a spraying bottle. 

Spray them over the dirt and rub with a brush or rubbing handle until they come off. 

 

Rubbing in a circular motion is motivated. 

Apply pressure on the thick layer of dirt if needed.

Very effective for corner tiles and grout. Can clean the space behind the door even. 

Try to use gloves while working with this agent. 
Apart from these easy DIY cleaners, you can use other cleaners to keep the ceramic tile clean. Here's a list of some of the best bathroom tile cleaners–
Scrubbing bubble disinfectant

Cleaning Pastes

Hydrogen peroxide

Oxygen bleach 

Chlorine bleach  
Moreover, we've added some of our favorite bleaches for you. You can choose any of them for your washroom. They're super effective. 
Just grab one without delay. All of them are very user-friendly and reasonable.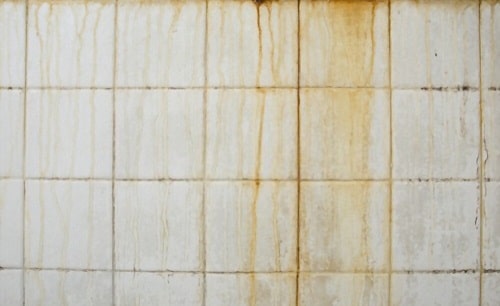 How To Keep Shower Tile Clean In Easy 3 Steps
Shower tiles are mostly made of ceramic or porcelain. Here comes the question – how hard is it to keep a tile shower clean? The answer is it's extremely easy. You just need to follow some steps and maintain some routine for that. 
Here we've added some routines that you can follow for cleaning up. It included daily washing tips, weekly routines, and special once-a-month treatments. Let's move there-
Cleaning the Shower Tiles Daily
Washing the surface and the wall tiles of your shower is wise. It won't let the water stains and soap scums get permanent and hard to wash off. 
So, follow this short daily cleaning routine to protect your tiles from massive filthiness-
Try to keep your shower dry. Wipe the surface and tiles off with a dry cloth and keep the door shut after using. 

Wash your tiles and grout once a week using vinegar or baking soda(as mentioned in the first table). This will protect the shower from getting massively dirty. 
You can follow this daily routine to keep the tiles clean. This will refrain the tiles from getting overly filthy.
Cleaning the Shower Tiles Once in Two Weeks
We've already discussed our daily care routine. But how about following a weekly cleaning schedule? This is for better hygiene and cleanliness. 
You can follow the below-mentioned 3 steps for cleaning your tiles- 
Step 1 of 3: Washing The Shower With Cleaning Agent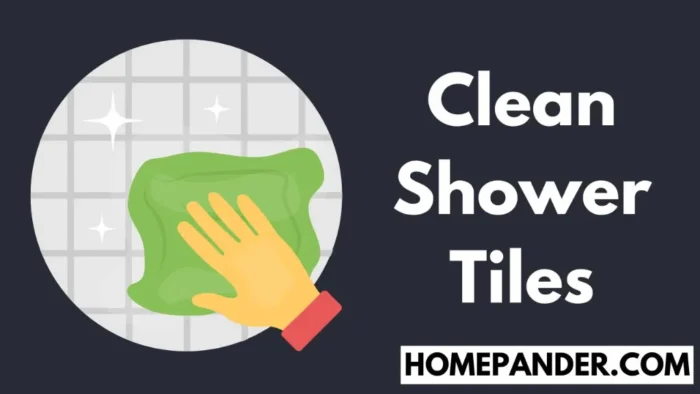 There are quite a few cleaners that can be considered for the best floor tile cleaners. You can choose one of them that matches your wants. We've added this table with their effectiveness and using process. 
Just choose the best shower tile cleaner according to your type- 
Name Of the Agent 

How To Use

Effective On 

Required Time

Price Level

Safety Concerns 

Oxygen Bleach

2 cups of bleach solution in 1 gallon of water are the optimum recipe. 

Can effectively clean toilet dirt, water stains, and soap bubble scums

Solution standing time 1 hour and scrubbing time 5 minutes 

Cheap and affordable

Non-toxic and eco-friendly. But make sure to not use vinegar with this solution as this contains hydrogen peroxide 

Chlorine Bleach 

As this is super concentrated, use ¾ cups of the agent with 2 cups of water.

Cleans the dirt effectively but at times it might even discolor the place while wearing off the spot. 

Don't scrub for more than 5-10 minutes.

Very Cheap

This is very harmful and not kid-friendly at all. Can be harmful to the environment and health even.

 

Try wearing gloves, goggles, and respiratory masks while working with it. 

Eco-Friendly Cleaner and Degreaser 

Use 1 part agent with 2 parts of water. Then pour it on the dirty spot.

This works fine on any kind of dirt or stains

Scrub for 5 minutes. You don't need to give it any resting time. Just mix and apply. 

Very expensive 

This is eco-friendly, ozone safe, non-toxic and kid-friendly
So, these are the most effective and available types of cleaning agents. You can use one that suits you. 
As it's highly appreciated to use eco-friendly cleaners and greasers. You can try using it for the utmost safety and the best cleaning experience. 
Not sure which one will be the best? Well, here's the answer. We've added some of our handpicked eco-friendly cleaning agents. Just pick one from here. 
So, choose one and start the cleaning mission. Moreover, don't forget to cover your feet while cleaning. Don't let these chemicals and dirt touch your bare feet. It might affect your skin. 
Step 2 of 3: Rinsing It Properly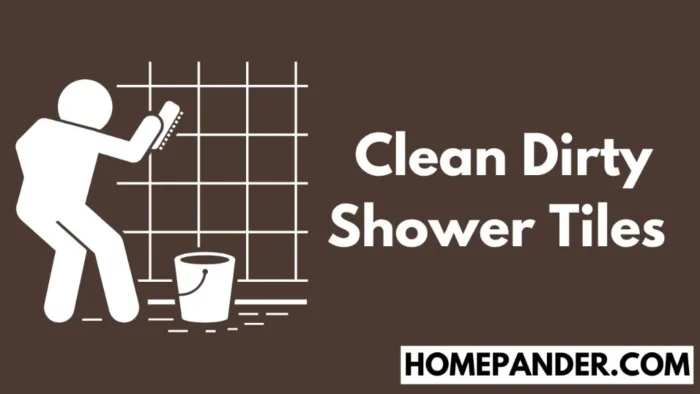 After using the cleaning agent to clean off the spots and dirt, the drill is quite easy. Wash off the dirt with water. You can use hot water if that is compatible with your cleaning agent. Just read the user instructions for this. 
Step 3 of 3: Drying It Off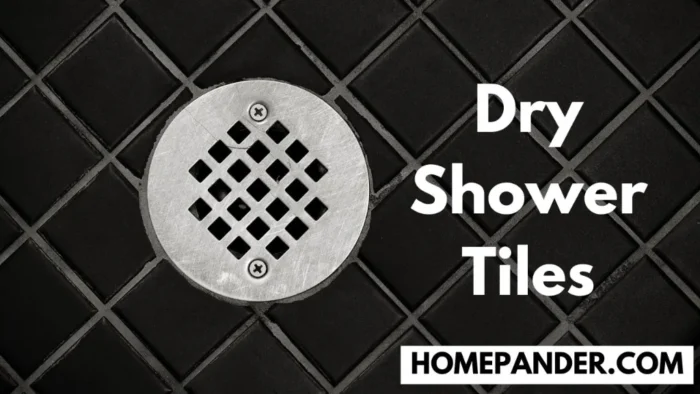 Keeping your tiles dry is a must. You should never leave your shower wet. So after washing it, don't forget to dry it up with a soft microfibre piece of cloth. 
Leaving the shower space wet might cause a water stain. Drying it regularly slows down the growth of molds and reduces soap scum.
But there are some special cleaning techniques that will ensure the highest quality cleanliness. You can follow that once a month. 
Cleaning the Shower Grouts Once a Month
We're trying to maintain a daily and weekly cleaning routine for our shower tiles. But once a month we should clean the grout. That's an important step in ensuring a hygienic shower. 
What's the process of cleaning the grout monthly? You can follow these methods- 
Use the above-mentioned baking soda paste for light spots. 

If the spots are more stained than usual, try using hydrogen peroxide. Make sure to rinse it off after cleaning.

For seriously stained grout, you must use bleach. It's better to use oxygen-based bleaches than chlorine bleaches. 
Just follow them to ensure a clean and healthy shower space. This will also protect you from shower accidents like slipping in a greasy shower and others. 
8 Easy Hacks of Maintaining Shower Tiles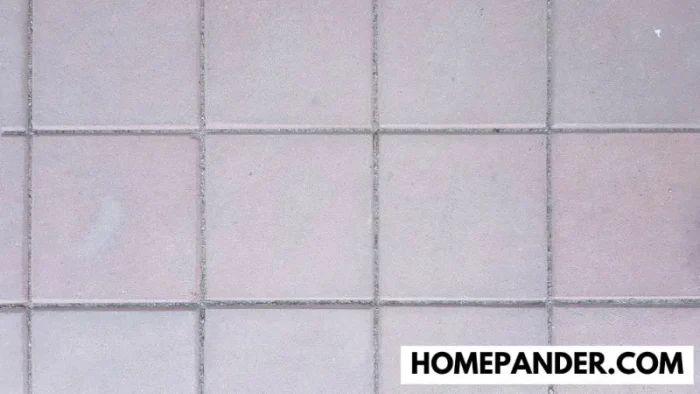 Are you wondering how hard is it to keep a shower tile clean? Here I've talked about clean shower brush in details.
Trust us on this, keeping a clean shower isn't that hard. You just need to be consistent and follow your regular cleaning routine. 
There are some easy tricks that you can follow in this regard-
Don't forget to wash your shower with hot water once a week. 

You can use two designated towels. One for wiping the water and another for drying up the tiles. 

Keep a squeegee that you can use to dry off the tiles and walls. You can even use them after using the shower.

Avoid using soaps that have a high tendency of dissolving. This type of soap creates a lot of residues. Rather use liquid soap that creates the least amount of scum. 

Use tile cleaner 2-3 times a week to keep it germ-free. Even your DIY vinegar mixture can work fine in this regard. 

Use mold preventive paints and sprays to keep your tiles safe from mold attacks. 

If your pipeline supplies hard water, please don't forget to install a water softener. Otherwise, your shower tile will get affected by the hard water. Because it contains minerals that can react and create stains. 
You must be wondering which water softener to choose. Worry not my friend, we are here for you. Here is a table of our handpicked products. This should come in help-
So, choose one wisely, considering your needs and water hardness. 
Moreover, the tips should help you to keep a clean and hygienic washroom. Don't miss this treat of having a shiny, clean, and perfect-looking bathroom. Hence, follow our given methods and suggestions. 
Also, read our related guide on: How to Clean Clear Plastic Shower Doors.
Related Questions
Question: Is vinegar bad for tile grout?
Answer: No, vinegar is only bad for unsealed tile grout. It can be bad for damaged grouts that need resealing too. As vinegar is acidic, it can weaken the grout by penetrating the air-passing spaces. Eventually, it might damage the grout even more if not taken care of. 
Question: How often should you reseal tile grout?
Answer:  Sealing tile grout is very important to keep the toilet clean. Moreover, unsealed grouts can damage the tile's lifespan. But maintaining the grout is also important. You should replace the sealers every 3 to 5 years. This will keep it in a good condition to protect the tiles from water-related hazards.  
Question: Does Coke really clean grout?
Answer: Actually yes. This is a very little-known fact. But Coca-Cola can clean off the dirt from the grout very effectively. You might need some scrubbing in case of tough spots. Don't forget to wash with water after rinsing. 
Question: How can I make my shower tile shine again?
Answer: Using white vinegar can be a very good way of making the shower tile shiny again. As vinegar can work on soap scums and other types of slimes as well. So, using it will make the tiles clean. The slightly acidic vinegar combined with hot water can wipe off the hard water particles like calcium. Therefore, the tiles become shiny. 
Question: How do you make bathroom tiles sparkle?
Answer: To make your bathroom tiles sparkle, just spray furniture polish on the surface. You can use lemon oil as a substitute for furniture polish. Wipe it off after a few minutes with a microfibre cloth. This will give your washroom a very ultra-shiny look. 
Question: Can you pressure wash shower tile?
Answer: Yes. you can use pressure on shower tile.
EndNote
That was all from our side. Now we'll be parting ways. Hope all of your questions about how to keep shower tile clean are answered by now. 
By the way, if you're installing new shower tiles, choose the type you find easiest to clean. 
Best of luck with your cleaning and how to clean tile shower.