How to Update Laminate Cabinets with Wood Trim?
You might have quite an unsatisfactory experience with the current laminate cabinet that you have in your kitchen. So thought of upgrading it might cross your mind, and you might ask yourself- can you reface laminate cabinets with wood?
And that's completely cool. With proper execution, an update on the kitchen cabinet might give your kitchen a new look!
But what about the process of laminate cabinet repair when it has a wood trim already? Upgrading a laminate cabinet with wood trim might be a hard task whatsoever.
But worry not, we've got you covered in this concern of staining old wood kitchen cabinets. An entire post had been crafted in this regard, where we will show you the steps on how to update laminate cabinet with wood trim.
Hop on the wagon, and let's dive deep-
4 Stages of Updating Your Kitchen Laminate Cabinet
At first, place, let us warn you that updating a kitchen cabinet is not an easy chore at all. As it's got a couple of more complications like laminate built and dark cabinets wood trim, the process is going to be even more complicated.
But worry not, we've made the process quite simple for you. In fact, we have split the process into four stages.
Have a look at the four-stage methods of updating kitchen laminate cabinet with wooden trim-
Table of Contents
How to Paint Laminate Cabinets with Wood Trim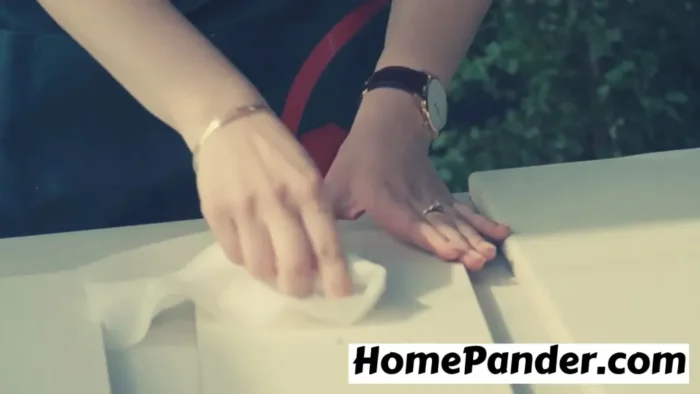 Stage 1: Painting The Cabinet
Even the best laminate kitchen cabinets fade with their color over time. The first thing to do is to paint the cabinet for a better and shinier look. In fact, it's an easier way to refurbish the cabinet completely.
But as there are two delicate things like the cabinet surface and the wooden trim, you have to be ultra-careful in this regard. Before starting to paint, don't forget to clean, it well to take out the grease or dust from the surface.
Once you're done with the surface laminate cabinet cleaner cleaning, you might look forward to sanding it well. Proper sanding with the right sandpaper will prepare the surface for paint.
Once the sanding is done, the next two steps are applying the primer and the paint itself.
To summarize the step, here are four steps of painting a kitchen cabinet made of laminate-
Cleaning the grease and dust.

Sanding the cabinet surface.

Applying the primer.

Applying the paint itself.
Ensure the use of the best laminate cabinet cleaner that doesn't leave any residue. Once you're done with all these steps, don't forget to let it dry for at least a few hours.
See Also: What kind of paint to use on laminate cabinets.
Stage 2: Replacing The Cabinet Doors
Doors are the frontal parts of the cabinet, which shows its visual aesthetics of it as well. So, replacing the old doors with new ones will definitely add a new glare of shine on your cabinet.
Now, there are many door styles in kitchen cabinets. Some might contain a single door, where some other cabinets have more than 4 parts of door.
No matter whichever style your kitchen door is, you should be super aware of the exact size and shape of it. To take a hint of the exact size and shape, you can use it for staining old wood kitchen cabinets.
To take off the old door, have a deep look at the hinge mechanism of it. It will eventually show up the way to unassemble them and take the door away. If you find the metal parts of the hardware stuck with rust, try using the best degreaser for laminate cabinets before you detach it away. 
Make sure not to make any prior damage to the cabinet itself. Use as much safety kits as possible. If needed, take help from an expert in this field.
On a side note, remember that you don't always have to remove the entire hardware, in case you're willing to know how to refinish wood laminate kitchen cabinets.
Stage 3: Replacing The Hardware
If you're thinking of a complete remodeling of your kitchen cabinet, there is no alternative of changing the kitchen cabinet hardware as well.
As hardware is a collective term, there are a number of items in the list. It's the hinges of the doors, the handles, the bolts, the knobs, the pulls, etc.
If you want to go an extra mile, you can go for hardware made of brushed nickel coating. Because these types of hardware are something that won't change in even years. They are protected from wear, rust, and another kind of potential damages.
Also, make sure that you are completely educated about the methods of assembling these parts. One wrong move while taking off or on this hardware, and you're one step closer to ruin your whole cabinet.
Make sure to use a top-notch hardware kit while you're up to this stage.
Stage 4: Cover the Cabinet With Contact Paper
If you don't want to take all the hassle of replacing the hardware and so, there is a quicker and way simpler alternative of giving your laminate cabinets a new look.
Yeah, we are talking about applying a contact paper on the cabinet surface. For optimal contact, you can use the best glue for laminate kitchen cabinets, which are available within a low price. 
Although, it might not sound like a great idea if the material life of the cabinet is about to end. But in case you're just worried about the fade outlook of the cabinet, this might be a good option to consider.
Contact papers are of many types in practice. They usually come in a roll and contain a decorative front side. As you can sense already, this decorative front is going to provide camouflage for the old and fade cabinet surface of your kitchen.
While selecting the right contact paper, make sure that you're okay with the dimension of it, and it matches with the other interior design of your kitchen. If you end up with a wrong size, you either need to cut some valuable parts off or purchase a new one for backup.
Make sure to get a contact paper from good brands. Because that's what matters when it comes to durability and quality. However, in some special cases, you might be interested in the process of how to restain wood trim darker. Do special modifications to get done with that. 
Related Questions
What materials do I need to update my laminate cabinets with wood trim?
You will need wood trim, a saw, measuring tape, wood glue, and finishing nails.
Can I use any type of wood for cabinet trim?
Any type of wood can be used for cabinet trim, but hardwoods are more durable.
Do I need to remove the cabinet doors to add wood trim?
No, the doors can remain on the cabinets while adding wood trim.
Can I stain or paint the wood trim to match my cabinets?
Yes, stain or paint can be used to match the cabinets.
How do I attach wood trim to my laminate cabinets?
Wood trim can be attached with wood glue and finishing nails.
Do I need to sand my laminate cabinets before adding wood trim?
Sanding the laminate cabinets is recommended for better adhesion of the wood trim.
Can I update just the cabinet doors with wood trim?
Yes, it is possible to update just the cabinet doors with wood trim.
How long does it take to update laminate cabinets with wood trim?
It usually takes a weekend to update laminate cabinets with wood trim.
Can I add wood trim to laminate cabinets with rounded edges?
Yes, wood trim can be added to laminate cabinets with rounded edges using a flexible trim.
What are some tips for a successful wood trim update on laminate cabinets?
Measure and cut carefully, sand and clean the surface well, and use finishing nails to ensure a secure attachment of the wood trim.
Check our latest guide about:  How to make oak kitchen cabinets look new.
Also, read the related guide: 
Wrap Up
So far, we have covered the four-step process for fixing laminate wood cabinets, and these steps are interconnected. If you want to completely update your laminate cabinets, it's important to follow the correct order. Start by changing the cabinet doors, then move on to the hardware. Finally, if you want to change the color, apply contact paper.
Good luck with the process on how to restore old wood trim!