What Kind of Paint to Use on Laminate Cabinets?
If you are looking forward to kitchen cabinets cleaning and restoration of your kitchen to keep shining like new, painting on a regular basis has no alternative. In this regard, you have to deal with different parts of the kitchen made of different materials.
And no need to mention that, painting these different materials will be different.
So, what kind of paint to use on laminate cabinets? Well, we've written this entire post to give you a firm idea on this, and here I've talked about laminate cabinets in detail.
Take a few minutes of break from whatever you are up to, and go through the whole post. We're certain that you'll get your answer-
What Laminate Kitchen Cabinets Colors Would Be Perfect for paint?
No matter it's the concern on how to update laminate kitchen cabinets or paint it anyway, choosing the paint color is crucial. So, before recommending some paintings, we would love to give you an insight into the color.
Now, most of the time people love to stick to white painting when it comes to kitchen cabinets. But laminate made cabinets demands for something else.
Have a look at the three different laminate kitchen cabinets colors recommendations for laminate kitchen cabinet painting-
Hale Navy (Benjamin Moore)

Sherwin William Distance.

Sherwin William(Indigo Batik).
With three of these colors, a blue accent will look perfect on your kitchen cabinet which is made of laminate.
Now, the most important question is, is there any particular laminate paint for cupboard pick that we have as a recommendation?
Yes, we do. And here is the list-
Semi-gloss, enamel cabinet paint for kitchen.
How To Paint Laminate Made Kitchen Cabinets?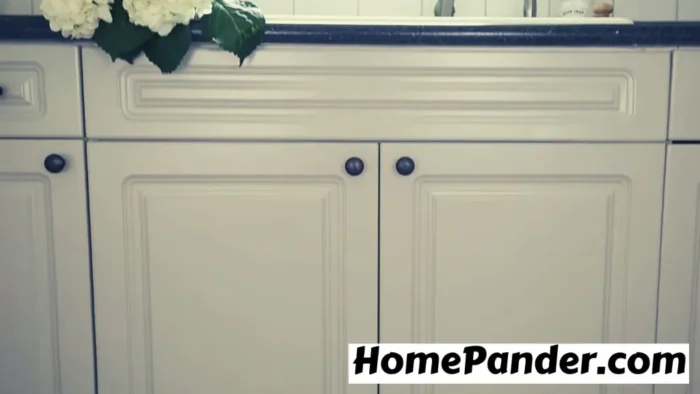 At this stage of the article, we would recommend with the steps to color your laminate kitchen cabinets. Stick to these 9 steps of the process with tips on painting laminate kitchen cabinets during each step below-
Step 1: Prepare for the painting
Before starting painting over laminate kitchen cabinets, you have to prepare for it. The preparation starts with covering the area around the cabinet. You can use any drop cloth or tarp for this protection.
Apart from the area around the cabinet, also cover the floor, as there is going to be a splash of painting on the floor.
If you don't have any kind of drop cloth, you can also do that by an old bed sheet or other clothes that will protect the paint from touching the floor.
If you can, also protect the wall around the cabinet.
Here's the best paint for laminate kitchen cabinets: Benjamin Moore Aura
Step 2: Remove the cabinet doors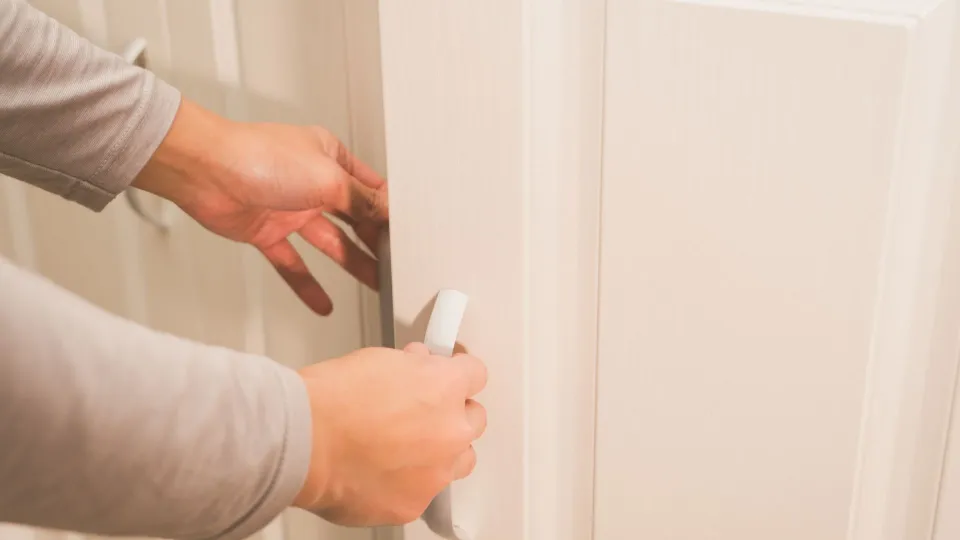 There are maybe either two laminate kitchen cabinets doors or a single one on it. If you want to make a proper painting on the doors, it's better to remove them first.
You can have a look at the hinges and check out whether they are easily removable or not. Take a mechanic's advice in case you are the very first time with this task.
Also, put a label on each of the door parts to remember which door is for which place of the cabinet.
Step 3: Take off the Handles and Hinges
If you have taken care of the hinges, it's time to take care of the other hardware. There are hinges, handles, and some other hardware to remove. Also, there can be knobs or pulls, which can be pretty hard to remove at the first place.
You can use a screwdriver set of a mechanic's set to get the job done.
And in case you think it to be unnecessary, you can leave it as it is. But make sure to cover it with painter's tape. Painter's tape is easily available in the local market or online shop. If you don't find the painter tap from the local market,  Here's the Best Painter's Tape: ScotchBlue Painter's Tape
Step 4: Wipe out the Cabinet with A Cleaning Solvent
The cabinet surfaces are essential to clean off first. You can use a cleaning solvent to make it happen before painting. It will remove the oil, dirt, grease, etc that stink to the cabinet surface.
While performing this step, make sure to cover your hands with gloves. In case you don't want to go with commercial cleaners, you can use TSP substitutes that are also available within a cheap price.
Here's the Best Cleaner for laminate kitchen cabinets: ZEP Hardwood & Laminate Floor Cleaner
Step 5: Sand the Cabinet
After cleaning, the next pre-painting task is to sand it well. You can use a  sander with medium grit to use in this step for sanding laminate kitchen cabinets.
Now, you can think of an electric sander to get away with this step easily. But that is a dumb idea when it's about a delicate surface like laminate. We highly suggest you stick to manual sanding processes.
Step 6: Take A Roller And Start Painting
Now, we're entered into the actual painting process. You can have a roller of small size to give the primary coat of painting on the cabinet. Before painting, you have to provide a coat of primer.
So, get a good quality primer for the kitchen cabinet, and use a roller to make the primary coat.
Once done, let' the primer dry for at least a couple of hours.
Step 7: Give 3-4 Coats of The Paint Periodically
As the primer dries up, you can use the same roller to provide coats of paint. Pick up one painting from the list that we've provided before. Now take the roller and dip it well into the paint.
Make sure that rolling is uniform and perfect. Otherwise, the whole painting will turn into a crap.
If you are not comfortable with a roller, you can use a paintbrush instead. That will let you work easier with less attention on the job.
Step 8: Paint the hard to reach areas
For DIY painting laminate kitchen cabinets, there are some complicated areas where it's hard to reach with a roller or a general paintbrush. You have to use an angled paintbrush to paint on these areas.
There are angled paintbrushes available in the market, which will help you to do so. Use a small watercolor brush for a better result.
Step 9: Dry it Up
As you are done with the process of painting, it's time to dry it up. Based on how many coats you have made on it, the timespan of this step varies. Basically, a time of 5-7 hours would be perfect.
During this time, make it sure that no dust or air movement is in the room. If you want to make it faster, you can use small rotating fans that will dry them up faster.
Related Questions
What type of paint is best for laminate cabinets?
Acrylic latex paint with a bonding primer is best for laminate cabinets.
Can you use regular paint on laminate cabinets?
Regular paint may not adhere well to laminate cabinets.
Should I use a primer before painting laminate cabinets?
Yes, a primer specifically designed for laminate surfaces should be used.
Do I need to sand laminate cabinets before painting?
Yes, sanding is necessary to create a surface that the paint will adhere to.
How many coats of paint do I need to use on laminate cabinets?
Two coats of paint are usually sufficient.
Can I use a paint sprayer to paint my laminate cabinets?
Yes, a paint sprayer can be used for a smooth finish.
How long does it take for painted laminate cabinets to dry?
It typically takes 24-48 hours for painted laminate cabinets to dry completely.
Will painted laminate cabinets hold up over time?
Yes, painted laminate cabinets can hold up well with proper preparation and application.
What are some tips for painting laminate cabinets to ensure a professional finish?
Clean and sand the surface, use high-quality paint and primer and let each coat dry completely before applying the next one.
Can I paint my laminate cabinets without removing them from the wall?
Yes, it is possible to paint laminate cabinets without removing them from the wall, but it may require more care and attention to detail.