Lysol vs Febreze (Which One to Pick For Toilet Odor)
Lysol vs Febreze, which one will work best for your bathroom odor eliminator? Yet both are the most popular names for odor eliminators. So it's easy to get confused about which one to pick.
However, the products have advantages and disadvantages of their own. That said, we can't pick a name without knowing its features and functionalities. 
So in this article, we make a head-to-head comparison between Lysol and Febreze to see which one is better than the other. We hope it'll give you a definite idea to find the right odor eliminator for your bathroom.
Without further delay, Let's get started!
Table of Contents
Basic Differences Between Lysol vs Febreze
| | | |
| --- | --- | --- |
| Compared Features | Lysol | Febreze |
| Manufacturer | Reckitt Benckiser | Proctor & Gamble – Pampers |
| Form | Semi- solid | Spary |
| Kills | 99.99% of germs | 99.99% of germs |
| Remove | All kinds of odors | All kinds of odors |
| Scent | Linen | Crisp linen |
| Effective against | COVID-19, cold, flu, stomach bug, sore throat, upper respiratory infections | Overall all types of viruses and bacteria |
| Usage | Mattress, toilet seats, shower, diaper pails, and more. | Entryways, bedrooms, bathrooms, kitchen, laundry rooms, closets, or any room |
| Number of items | 3 | 2 |
| Dimension | 2.88 x 5.69 x 10.13 inches | 2.32 x 7.38 x 9.65 inches |
| Weight | 19 FL oz | 8.8 Oz |
| Shop Now | Check Price On Amazon | Check Price On Amazon |
See Also: Lysol Vs Clorox Toilet Bowl Cleaner.
What's the Difference Between Lysol vs Febreze?
The main difference between Lysol and Febreze is that Lysol eliminates the odors by destroying the odor-causing bacteria. On the other hand, Febreze traps odor molecules using cyclodextrin additives and leaves a fresh scent. 
Before knowing their detailed differences, it's important to know a basic overview between them. 
Lysol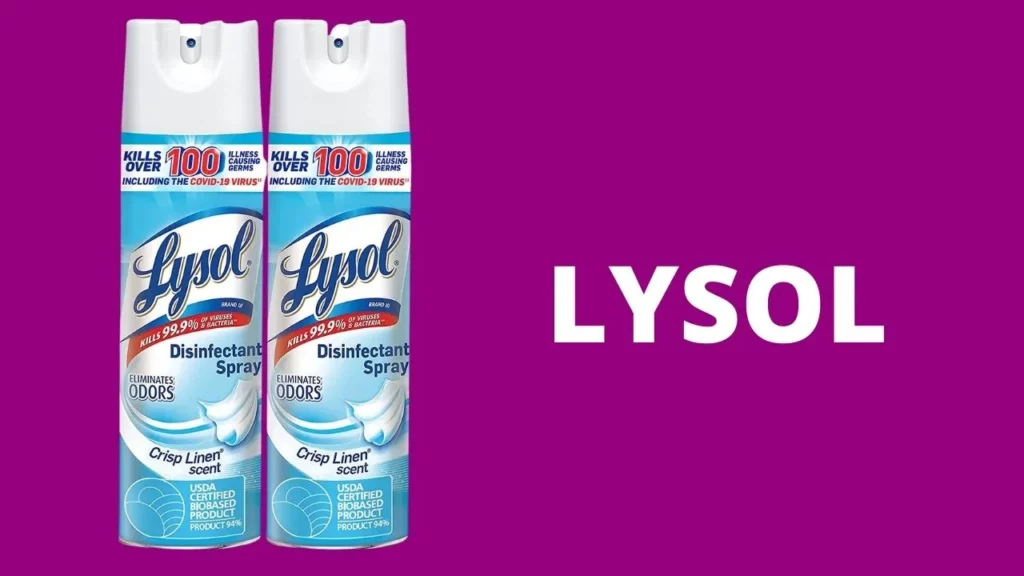 Lysol is an American brand that has been quite famous for its cleaning and disinfecting products for over 133 years. However, its air treatment products amazingly work to remove harsh odor and disinfect the areas as well. The product is a good choice for removing a powerful odor from the bathroom.
Lysol air treatment products can be used for both residential and commercial uses. It is broadly used to sanitize and remove odors from the following areas-
Bathroom
Kitchen
Pet areas
Smoke
Garbage cans
Pros
Kills 99.99% of odor-causing bacterias
Destroy bacterial odors at the source 
It keeps the air fresh and clean
Worth value for the price
Cons
Febreze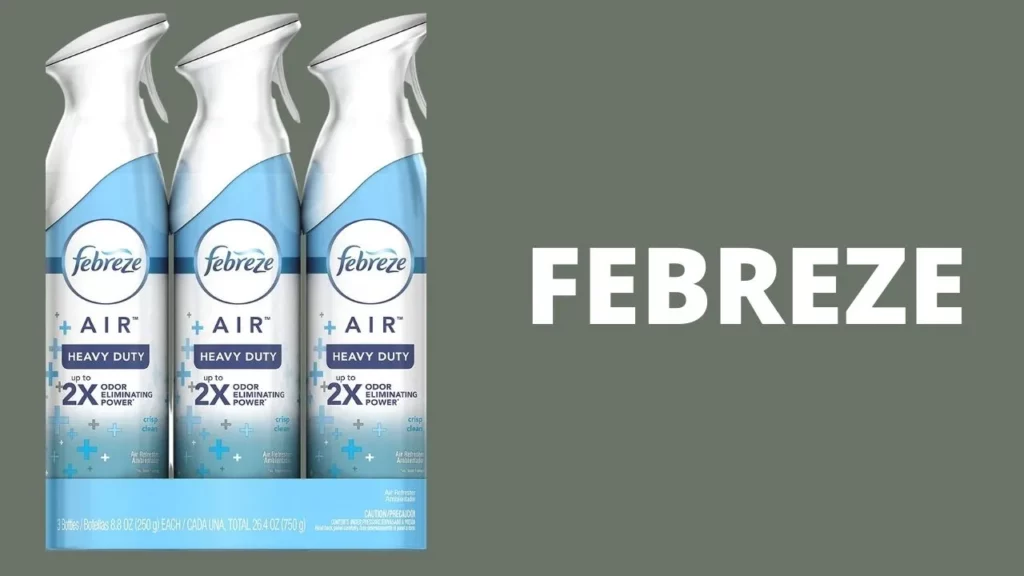 Febreze is also an American brand manufactured by Procter & Gamble. It specially manufactures several types of household air freshener odor-eliminating products. The company has been a successful brand in the air freshener industry since 1996.
However, Febreze odor eliminating air freshener spray can be used in the following areas:
Bathroom
Bedroom
Kitchen
Offices
Laundry room
Living rooms
Pros
Trap odors & freshen the bathroom
Works with excellent fragrance 
Low price for good product value
Long-lasting scent
Multi-purpose uses
Cons
Sometimes stopped working before empty
Let's jump into the more detailed comparison of these two products and see who wins the race.
1. Odor Eliminating Capability
The first thing to consider for a bathroom air spray is its effectiveness for eliminating tough and rough odor from the toilet. So let's look at how Lysol and Febreze work for it.
Lysol
Initially, Lysol covers up the odor with its strong fragrance so that your nose gets some relief. Afterward, Lysol features improved malodor counteracting Technology that effectively eliminates odors from the bathroom.
You can be worried that sometimes the odor comes back after a few minutes. Thankfully Lysol allows long-lasting scent, preventing odors. It destroys bacteria at the source so that the bacteria can't grow again. 
Febreze
Talking about Febreze, it doesn't only mask the odor with its beautiful fragrance. Instead, its OdorClear Technology cleans away the odor nicely. The beta-cyclodextrin additive traps the odor-causing substances and reduces vapor pressure and related odor. So don't be afraid if some stinky odors disturb your way, just trigger spray one time and vanish the odor on the spot.
Winner- Lysol because it effectively removes the odors as well as destroys odor-causing substances. 
2. Fragrance
Generally, when a worse odor hits your nose while entering the bathroom, it's ultimately an awkward experience. But a pleasant smelling and refreshing scent can amazingly relax your mind. Let's know which has a better smell between Lysol and Febreze.
Lysol
Lysol eliminates odor-causing bacteria and leaves a clean, fresh fragrance in your bathroom. Though sometimes, you can find the smell too strong, if you're fond of sandalwood, then it's a must-try choice. However, the scent stays for hours, so you don't spray it frequently.
Febreze
As Febrez comes with an air freshener form, it mainly focuses on the fragrance. That's why while eliminating airborne odors, Febreze releases an instant blast of lightly fresh scent throughout your bathroom. The smell is not overwhelming at all, and you're going to get this smell for a prolonged time. 
On top-notch, if you have kids in your home or your family, they also start to love this smell while entering the toilet.
Winner: The winner is Febrez because it's a dedicated air freshener with a better smell than Lysol.
Related Contents:
3. Disinfects Ability
Of course, the best air freshener or odor eliminator should have better disinfect abilities too. This element ensures the air and toilet surfaces keep disinfectant and protect your family from harmful bacteria.
Lysol
Lysol is not just an air freshener, it effectively disinfects the bacteria and viruses with one simple sneak attack. If you have a baby or old patient in the home, the primary concern is to protect them from germs. Luckily, Lysol helps prevent the growth of mildew and mold bacteria, eliminating the odor. 
Lysol Neutra Air 2 in 1 Sanitizing Spray air freshener kills 99.9% of odor-causing bacteria in the air. Its ingredients quickly kill the bacteria on the fabric and surface without being toxic to your lovely family members.
Febreze
Febreze doesn't have any antimicrobial properties on its active ingredient. So it's not very effective in disinfecting the air. However, the new formulation of Febreze spray includes additives for effective disinfectants.
Winner: The winner is Lysol, as its active ingredients efficiently disinfect airborne bacteria in your bathroom. 
4. Toxic or Non-Toxic Ingredients
Air freshener or disinfectant sprays contain several chemicals and additives that can cause severe issues to your health. In that case, you should know whether the products are toxic or non-toxic.
Lysol
Researchers don't find any toxic ingredients or cases due to the use of Lysol. It contains mineral spirits, MIPA-BORATE, Mineral oil, fragrance, and so on. These ingredients can sometimes cause skin irritation allergies if they contact the skin. 
Febreze
As usual, Febreze also contains non-toxic ingredients. So until it directly comes into your skin contact, you're safe from skin or nose irritation. Nevertheless, you better know that Febreze only traps the odor molecules but doesn't destroy them. So while you are inhaling, the substance can be harmful to your lungs and health.
Winner: Lysol as it kills the odor molecules and cleanses the air. 
5. Price
Before you invest, make sure you're investing in something good. Check out whether the air fresheners are worth value for money.
Lysol
Lysol Neutra Air 2 in 1 disinfectant spray comes with 2 formulations for odor eliminating and disinfecting bacteria. So the price is comparatively high.
Febreze
Febreze Odor eliminating air freshener spray comes with a pretty low price without compromising the ability to remove a pungent smell.
Winner: Febreze as the price is relatively lower yet effective enough to remove a strong odor from your toilet.
How to Use Lysol?
Lysol is a disinfect spray along with an air freshener. So it can be used for several purposes. Let's get a quick view on how to use Lysol correctly.
To Use in The Air
Unlock the cap and turn it 2 times counterclockwise.
Hold the Lysol spray can upward.
Spray towards the center of your bathroom.
Lock the cap after use.
To DeoDorize
Simply spray on the surface.
To Disinfect Hard & Nonporous Surface
Pre-clean the surface 
Spray thoroughly until it is fully wet
Leave it for 5 minutes to disinfect 
Let it air dry
After use, rinse the food and toys contact surface with portable water
Quick Tips: Don't use Lysol in the following areas-
Painted surface 
Polished wood
Acrylic plastics
How To Use Febreze?
Follow the steps below to use a Febreze air freshener in your bathroom.
Hold upright. Don't shake the bottle as Febreze contains nitrogen. Though shaking it is not unsafe, it allows the propellant to run out sooner.
Pull the trigger back.
Spray Febreze in the air with sweeping motion throughout the entire bathroom
Let the damp floor air dry to avoid injury.
Frequently Asked Questions (FAQs)
Does Febreze Eliminate Urine Odor?
Yes. Febreze is designed to eliminate tough odors from your home and bathroom. So you can certainly use Febreze to get rid of urine odor. If you're troubling due to urine odor and have already used hundreds of products, Febreze can help you get rid of it.
Is There A Febreze Disinfectant?
Yes. There is a Febreze Professional, which works great as a disinfectant. It can kill 99.9% of bacteria living on a soft surface.
How Do You Get Lysol Smell Off Your Hands?
If Lysol leaves residue in your hands, apply vinegar in your hand. Vinegar is the most common kitchen ingredient and easily available. Splash vinegar in the hands and wash them thoroughly with water to smell off.
Conclusion
Both the Lysol and Febreze are effective enough to remove bathroom odor. Overall, Lysol gives the best performance, from odor elimination to disinfecting the bathroom air.
Otherwise, choose Febreze for a beautiful and natural refreshing scent in your bathroom. It efficiently drives away the odor and is an excellent value for money. However, the choice is totally up to you and your requirements. 
That's all for today. Make up your mind on what to grab. Kick out your bathroom odor instantly and invite in the freshness! If you find our Lysol vs Febreze helpful, don't forget to like, comment, and share with your friends. 
Best wishes!